Wilmington No Fault Workers Compensation Lawyer
If you suffer an injury at work in Wilmington, NC it is natural to have concerns about how you can recover from the incident and manage the economic impact of expensive medical bills and the inability to work. The North Carolina Workers' Compensation Act aims to provide financial security to workers in this position, allowing them to claim benefits when they sustain injuries on the job. One of the most common questions injured workers have in this situation is whether they need to prove fault before qualifying for benefits.
Helping Injured Workers With Their Workers' Compensation Claims in Wilmington, NC
The workers' compensation system of the state functions on a no-fault basis. This means that it is not essential for an injured worker to prove liability for their injury at work to qualify for workers' compensation benefits. If you sustain an injury while working, it does not necessarily matter how the injury happened or who caused it when it comes to qualifying for benefits. However, there are some situations in which fault can influence a workers' compensation claim or open the door to additional legal recourse.
Christina Rivenbark & Associates offers extensive professional experience with workers' compensation claims, including those in which fault comes into play. If you are unsure of your eligibility to claim workers' compensation benefits or if you think you have grounds for additional legal recourse outside of the workers' compensation system, we can help determine the optimal methods of securing the compensation you need to recover.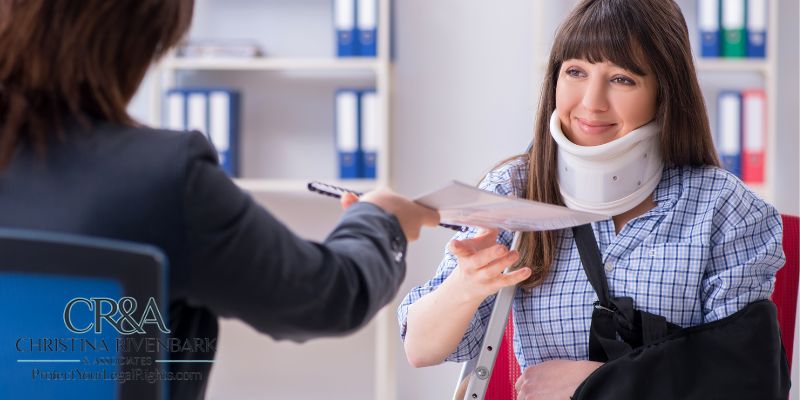 Fault in Workers' Compensation Cases in Wilmington
The no-fault system in the state means that it is not necessary to prove fault to qualify for benefits. In fact, it is possible for an employee to have caused their own injury and still qualify for workers' compensation. There are exceptions to this, however. If the employee was working under the influence of drugs or alcohol, or if they intentionally violated workplace safety rules or engaged in horseplay at work, these issues could prevent them from claiming workers' compensation benefits.
Fault can also potentially work in the injured employee's favor. While workers' compensation insurance generally prevents injured employees from filing civil suits against their employers in response to their workplace injuries, it is possible for a worker to have grounds for civil action against an employer if the employer intentionally caused their injury, failed to uphold applicable safety regulations, or if they do not have workers' compensation insurance.
It is also possible to have grounds for a third-party personal injury suit in addition to a workers' compensation claim. If any party outside of the workplace injured an employee, the employee could still claim workers' compensation benefits because they were injured while working. However, they can also file an additional third-party personal injury claim against the at-fault party to recover compensation for any damages not covered by workers' compensation.
If you have any questions regarding fault for your recent workplace injury, it is essential to consult an experienced Wilmington workers' compensation attorney as soon as possible. Seeking legal counsel that you can trust can make every aspect of your recovery process easier to manage and more likely to generate the results you hope to see.
FAQs About Wilmington, NC No Fault Workers Compensation Law
What Is the Statute of Limitations for Workers' Compensation Claims?
There is a two-year statute of limitations for workers' compensation claims in the state, so you must submit your claim to your employer's insurance carrier within two years of the date your workplace injury occurred. Otherwise, you could miss your chance to claim benefits like medical expense coverage and temporary disability. You have a much shorter time in which to report your injury to your employer, so make sure you notify them of a workplace injury immediately to meet this requirement.
Who Is Exempt From Workers' Compensation?
North Carolina's workers' compensation laws cover most, but not all, employees in the state. A few employees are exempt from workers' compensation and cannot claim benefits if they suffer injuries while working. Domestic care workers, agricultural employees of employers with fewer than ten total employees, and independent contractors typically cannot file workers' compensation claims.
How Much Can I Receive in Workers' Compensation Benefits in Wilmington?
On average, a successful workers' compensation claim yields full compensation for the injured workers' medical expenses and disability benefits that compensate them for their inability to work after their injury. The exact amount of benefits you could receive depends on the severity of your injury, the terms of your employer's policy, and whether you retain any functional capacity to work after the injury. Your Wilmington workers' compensation attorney is your most valuable asset for increasing your total benefits.
How Long Does Workers' Compensation Last?
Most injured workers who qualify to receive ongoing weekly disability benefits for their workplace injuries can continue receiving these payments for up to 500 weeks. However, permanent disability benefits are possible when a claimant cannot work at all in the future due to the severity of their injury. If they are able to return to work sooner, their disability benefits end once they are able to resume their previous job duties at their full earning capacity.
How Much Does It Cost to Hire a Wilmington Workers' Compensation Attorney?
You do not need to worry about exorbitant legal fees when you choose Christina Rivenbark & Associates to represent your claim. Our team provides comprehensive legal counsel on a contingency fee basis, meaning we take a percentage of your final settlement as our fee. However, we only take a fee if we succeed in securing compensation on your behalf. You face no fee at all if our firm is unable to secure compensation for any reason.
Christina Rivenbark & Associates has a strong record as a leading choice for workers' compensation representation in the Wilmington area. We take time to get to know every client, and we know you are likely to have many questions regarding your eligibility for workers' compensation benefits. If you are ready to learn how an experienced Wilmington workers' compensation attorney can assist you with your recovery efforts, we are ready to help. Contact us today and schedule a free consultation with our team to start working toward the benefits you deserve.