Whiteville Personal Injury Attorney
The term "personal injury" refers to any situation in which one party harms another party through negligence or illegal activity. It's possible to file a personal injury claim against another party if their recent actions caused any physical harm and/or economic losses, and success with this case could yield compensation for the damages you suffered because of their actions.
Experienced Legal Counsel for Personal Injury Claims in Whiteville, NC
If you recently sustained any type of injury due to the actions of another party, a Whiteville personal injury attorney can help hold them accountable and secure compensation for your damages. The right attorney can be an invaluable asset for this case as they can assist you with gathering the evidence needed to prove liability and establish the extent of your claimable damages.
The team at Christina Rivenbark & Associates has the experience, resources, and skills you want on your side in the aftermath of a serious personal injury. Our team has a solid record of many successful cases due to our commitment to client-focused legal counsel. If you are wondering how you can recover from the damages another party recently inflicted in Whiteville, we are ready to help explore your options for legal recourse.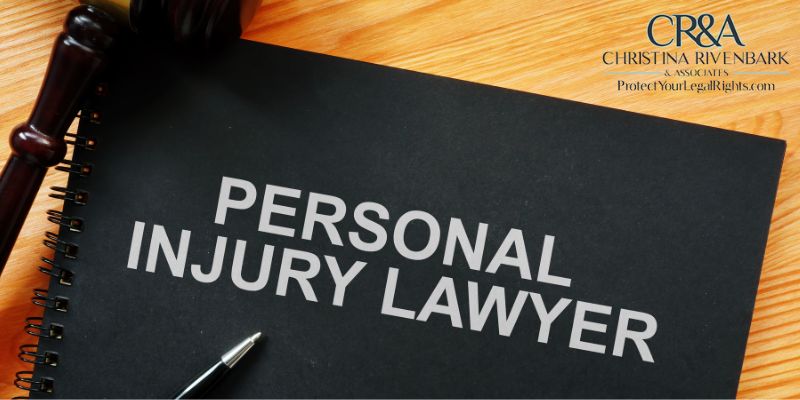 Personal Injury Cases We Represent
If you need a Whiteville personal injury attorney, it is vital to choose one who has solid experience handling such cases. Christina Rivenbark & Associates has experience handling many personal injury claims on behalf of clients in the Whiteville area, including:
Motor vehicle accidents. These are common throughout the state and a leading cause of personal injury claims. If you were injured in a car, truck, or motorcycle accident, we could guide you through the recovery process from an auto insurance claim against the at-fault driver to a comprehensive personal injury suit that seeks compensation for the losses that insurance won't cover.
Premises liability claims. If you were injured (for example, if you slipped and fell) on someone else's property, the property owner could be liable for your damages. A premises liability claim is a type of personal injury claim, and our firm can help prove that a property owner was negligent in their care of the property where your injury occurred.
Catastrophic injuries. A personal injury can qualify as catastrophic if it causes a permanent disability. Spinal cord injuries and traumatic brain injuries are common examples of catastrophic injuries that often leave victims with various permanent disabilities.
Work injury claims. North Carolina enforces robust workers' compensation laws to help injured workers recover from workplace accidents. However, some injured workers may have grounds for civil suits outside of the workers' compensation system, depending on how their injuries occurred. We can provide the comprehensive legal representation you will need for both a workers' compensation claim and a personal injury suit against the party responsible for causing your injury.
These are just a few examples of the most common personal injury claims we handle on behalf of Whiteville area clients. Whatever type of injury you suffered, you will need legal counsel you can trust to help file your claim and secure as much compensation as the law allows for your damages.
Claiming Compensation in Your Personal Injury Case in Whiteville
The goal of a personal injury claim is for the plaintiff to recover the compensation they need to account for all the damages a defendant caused. State law allows the victim to seek repayment of all economic damages and compensation for the physical pain and psychological suffering they experienced. Your Whiteville personal injury attorney can potentially help secure compensation for the following:
Medical treatment costs. If you suffered physical injuries due to a defendant's actions, they are liable for all healthcare expenses you incur for treatment of your injuries. You can seek full repayment of your immediate and future healthcare expenses, including the cost of any future treatment you may need to fully recover.
Lost income. When a personal injury has left you unable to work and earn income, the defendant who caused your injury is liable for the total lost wages resulting from their actions. Your Whiteville personal injury attorney can help recover compensation for wages lost immediately following the injury and compensation for your lost future earning capacity if you cannot work in the future due to the severity of the harm you suffered.
Property damage. If the defendant hurt or destroyed your personal property with their actions, you can hold them accountable for all associated repair and replacement costs.
Pain and suffering. Beyond your economic damages, North Carolina law also allows you to seek compensation for physical pain, psychological distress, and trauma you experienced because of a defendant's actions. Nothing limits how much you can include in your claim, but it should reasonably reflect the overall severity of your condition following the injury you suffered. Your Whiteville personal injury attorney may seek a large lump sum settlement to reflect the severity of a very damaging injury, or they may aim for compensation based on the time it takes you to recover from your injury.
Ultimately, you could be entitled to claim far more compensation than you initially expected. The right attorney can be invaluable not only for meeting the procedural requirements of your case but also for uncovering all the various types of compensation you can seek from the defendant. When Christina Rivenbark & Associates represents your personal injury claim in Whiteville, NC our goal is to help maximize your recovery in the most efficient manner possible.
FAQs About Whiteville, NC Personal Injury Law
How Long Do You Have to File a Personal Injury Claim?
If you intend to file a personal injury claim against another party in Whiteville or anywhere else, you must do so within the three-year statute of limitations. This time limit begins on the date your injury occurred, and failure to meet this deadline could mean missing your chance to secure compensation. Three years may sound like more than enough time, but it is always advisable to start the claim filing process as soon as possible after your injury.
Can I File a Personal Injury Suit if I'm Partially at Fault for Causing the Injury?
No, if you bear any partial liability for causing your personal injury, it precludes you from filing a personal injury suit against another party. The state upholds the rule of contributory negligence. This means that a plaintiff's shared liability for a personal injury bars them from seeking compensation from a defendant. If you have any reason to worry that you bear partial fault for your damages, it is crucial to speak with an experienced Whiteville personal injury attorney as soon as possible.
How Much Compensation Can I Claim for a Personal Injury in Whiteville?
Under North Carolina law, you can seek full repayment of all the financial losses you suffered from the defendant's negligence or misconduct. This includes your medical expenses, property damage, lost income, and lost future earning capacity. You may also claim pain and suffering compensation to reflect the severity of your experience, and punitive damages could come into play if the defendant caused your injury through any illegal misconduct. Your Whiteville personal injury attorney can help you maximize your total compensation.
Why Do I Need a Whiteville Personal Injury Attorney?
An experienced legal representative is an invaluable asset, no matter what your case entails. If you tried to handle your case by yourself, you would face many challenges you would likely be unable to resolve on your own. Even if you managed to win, you could risk settling for less compensation than you legally deserve. Hiring an attorney allows you to focus on your recovery and personal obligations while your legal team manages your case, and you will be more likely to maximize your total compensation with their assistance.
How Much Does It Cost to Hire a Whiteville Personal Injury Attorney?
The attorneys at Christina Rivenbark & Associates take personal injury cases on a contingency fee basis. This means you will pay no upfront or ongoing attorneys' fees and no fee at all if we cannot secure compensation on your behalf for any reason. If we do win your case, we take a percentage of the total amount recovered from the defendant as our fee. This billing system allows you to have the legal counsel you need when you need it most with no financial risk to you.
Having the right attorney on your side for your impending personal injury case will dramatically improve your chances of success with the case. Christina Rivenbark & Associates has years of experience handling all kinds of personal injury cases for clients in the Whiteville area, and we know the various legal challenges you might face as you seek compensation for your damages. Whatever your case entails, you can trust our team to provide compassionate and supportive legal counsel through all phases of your recovery efforts. Contact us today to schedule your free consultation with a Whiteville personal injury attorney you can trust with your claim.