Wilmington School Injury Attorney
Whenever one party's actions result in harm to another party, this can form the basis of a personal injury claim in North Carolina. However, the location of the incident and the relationship between the defendant and plaintiff can create various complications in terms of the legal mechanisms that will come into play in the resulting civil case. One of the most difficult things any parent must eventually face is their child suffering an injury. It can be extremely challenging for any parent in such a situation, but when a child is injured at their school, this is likely to add frustration and resentment to the strong mix of emotions the parent experiences.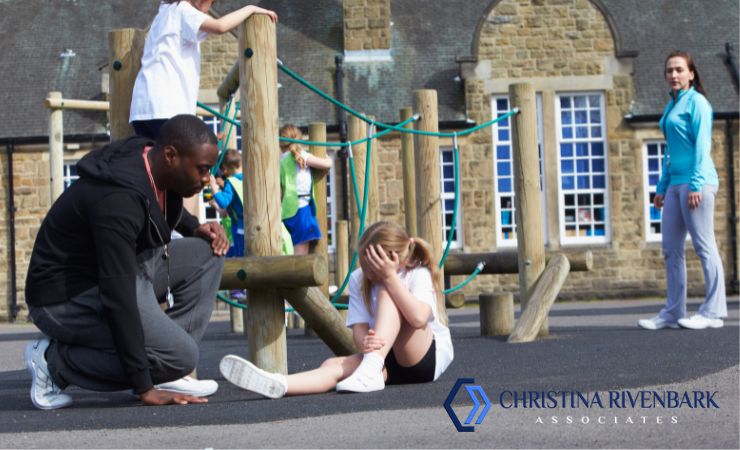 Legal Counsel You Can Trust for Wilmington School Injury Claims
Christina Rivenbark & Associates can provide the legal counsel you need when your child has suffered an injury at school. The type of school they attend determines what type of civil case they will need to file, and reliable legal representation is an invaluable asset in any such situation. Our firm understands how devastating it can be for a family to have a child suffer an injury at school, and we have the skill and professional resources you need on your side to ensure accountability for your child's recent school injury.
Potential Types of Injuries at Wilmington Schools
Children of all ages face various risks at school. Some of the most commonly cited causes of school injuries that can lead to contentious civil suits include:
Injuries from improperly maintained school grounds, such as damaged stairs and doorways, improperly kept play areas, and wet floors. Slip and fall accidents are some of the most common school injuries reported.
Bullying-related injuries. While most schools enforce strict anti-bullying policies, it's possible for students to suffer severe injuries, and the resulting civil case could implicate the bully's parents as well as the school as liable for the damages in question.
Food poisoning from improperly prepared cafeteria foods. This can be difficult to prove, but an experienced Wilmington school injury attorney is an invaluable resource for helping their client gather the evidence needed to prove the exact cause of a food poisoning case.
Abuse from teachers. Unfortunately, the teachers that parents trust to provide safe and attentive instruction sometimes directly harm students in various ways. While the individual responsible for such an injury will likely be the focal point of the parent's subsequent legal actions, the school could share vicarious liability, depending on the exact details of the incident.
Any school injury can pose significant challenges to the affected student and their family. Therefore, when you choose Christina Rivenbark & Associates to represent you in a school injury case, we will immediately start building the framework of your civil suit. Our team can assess the full scope of damages you can claim and assist you in identifying every party that holds liability for the incident in question.
It is important to note that if your school injury case targets any public school, this will technically qualify as a claim against a government entity. This is very different from filing a civil suit against another private entity, and you will need legal counsel you can trust to reach the best possible outcome in this type of case. The attorneys at Christina Rivenbark & Associates have years of experience handling a range of civil cases, and when you need a Wilmington school injury attorney to represent your claim, you can rely on our team for ongoing support through every stage of your proceedings.
FAQs About Wilmington School Injury law
Can You File a Civil Claim for an Accident at School?
If your child was injured at a private school in the state, the school is liable for the resulting civil damages if any type of negligence or misconduct caused the injury. If your child was injured at a public school, the school is technically a government agency with public school immunity. This will generally prevent public schools from facing civil liability for accidents, but it will not provide immunity from liability for intentional torts. If you are unsure whether you have grounds for a civil suit against your child's school, it's vital to consult a Wilmington school injury attorney as soon as possible.
How Long Do You Have to File a Claim for Your Personal Injury?
North Carolina's statute of limitations for personal injury claims is three years after the injury occurred. This may seem like plenty of time to file your case, but it is always best to start the process as soon as possible after the injury in question. In addition, the sooner you hire an attorney to represent your claim, the more likely you are to reach the best possible outcome.
How Much Is a School Injury Claim Worth?
If you have grounds to begin a personal injury claim against your child's school, the state's personal injury laws apply, and you can potentially recover the full amount of economic damages resulting from the incident. State law also allows a personal injury plaintiff to seek pain and suffering compensation in proportion to the severity of the injury in question. However, if your claim targets a public school, you could face restrictions in terms of the compensation you will receive if you win your case.
How Much Does It Cost to Hire a Wilmington School Injury Attorney?
Christina Rivenbark & Associates makes our legal representation accessible to those who need it most by following a contingency fee billing policy. When you hire our firm to represent you in a personal injury claim, we will only take a portion of your final award as our fee, but only if we win your case. Therefore, there is no risk to you because you will pay nothing if we are unable to secure compensation on your behalf.
The attorneys at Christina Rivenbark & Associates have years of experience handling all types of civil suits for damages on behalf of Wilmington area clients, and we understand how devastating it can be for any parent to discover their child was hurt at school. If you think there are grounds for you to file a claim against your child's school for a recent injury, we can help. Contact us today and schedule your consultation with a Wilmington school injury attorney you can trust with your case.