Whiteville Car Accident Attorney
Car accidents happen every day throughout North Carolina for many reasons, resulting in all types of physical injuries and substantial economic damages for those involved. Whenever a car accident occurs, the situation could generate heated disputes regarding fault and a complex series of legal proceedings for the drivers involved.
Helping Whiteville, NC, Car Accident Victims Recover With Confidence
If you recently suffered injuries in a car accident, a Whiteville car accident attorney is the ideal resource to consult to determine your most viable recovery options. Christina Rivenbark & Associates can provide the compassionate legal counsel you need in this situation. Our firm has years of professional experience, and we have successfully handled many car accident claims for clients in Whiteville and surrounding communities. Whatever your case entails, you can trust our firm to guide you to a positive outcome in your recovery efforts.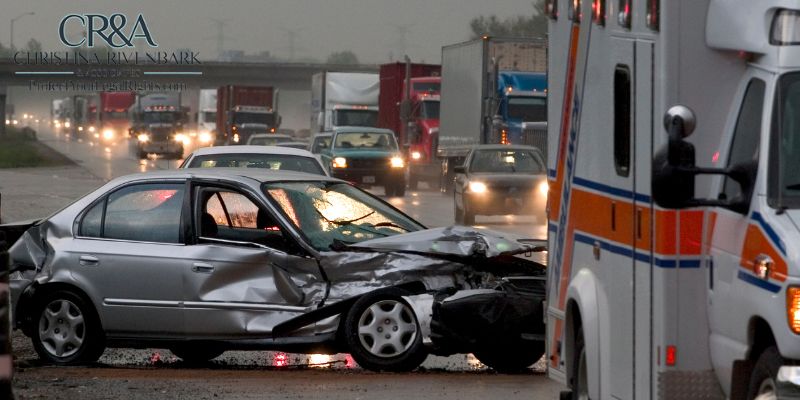 How to Prove Fault for Your Recent Car Accident
The state upholds the fault rule for resolving all vehicle accident claims, so if you intend to pursue legal recourse against another driver, it will be essential for you to prove they directly caused your accident before you can recover any compensation for your losses. A few of the most commonly cited causes of car accidents in Whiteville that generate civil suits include:
Driving under the influence (DUI) of alcohol or drugs. This is illegal in every state, and the penalties for DUI escalate dramatically when the intoxicated driver causes an accident. If you suffered injuries in a DUI accident, we could help file an auto insurance claim and prepare for the further legal proceedings your case is likely to entail.
Distracted driving. Any time a driver is inattentive behind the wheel, they increase their risk of causing a serious accident. Your Whiteville car accident attorney can help obtain cell phone records, traffic camera footage, eyewitness testimony, and any other evidence you may need to prove the at-fault driver was distracted behind the wheel when they caused your accident.
It is illegal for any driver to exceed posted speed limits. Speeding is a leading contributing factor to the number of accidents reported each year and a significant contributor to the number of fatal accidents in the state. Excessive speeding could lead to reckless driving charges for an at-fault driver.
Moving violations. Whenever drivers fail to abide by posted traffic signals, perform illegal turns, or run red lights or stop signs, these actions can easily result in serious accidents. Eyewitness testimony and traffic camera recordings are often invaluable for proving liability for these types of accidents.
No matter how your accident happened, the first steps you take in the immediate aftermath can significantly impact the recovery efforts you pursue. Under North Carolina law, all drivers are required to have auto insurance, and filing a claim against the at-fault driver is likely to be your first step toward recovering your losses. Once you have proven fault for your accident, your attorney can help you proceed with your auto insurance claim.
Recovering Compensation for Your Car Accident in Whiteville
Filing an auto insurance claim is the first recovery option available to you after a car accident in Whiteville. However, dealing with insurance companies can be difficult, and having the right attorney on your side will make filing your insurance claim much easier. A successful claim could yield compensation for vehicle repair costs and your medical bills if you suffered physical injuries from the accident.
If the at-fault driver has enough insurance coverage to fully cover your losses, your case will end with your insurance settlement. However, if you suffered severe injuries, an auto insurance claim alone is unlikely to fully compensate you for your damages. When you cannot fully recover through insurance, you have the right to file a personal injury claim against the at-fault driver. Under North Carolina law, you could potentially recover compensation for:
Medical expenses beyond what the defendant's insurance covers. You can seek full repayment of both immediate and future medical expenses resulting from your accident. This includes the cost of any future medical treatment you need to achieve maximum medical improvement from your injuries.
Repayment of lost income. When you cannot work due to the injuries you suffered, the defendant is liable for your missing wages. Additionally, if they caused any severe injuries that permanently diminished your earning capacity, a Whiteville car accident attorney can potentially help hold them accountable for your lost future earning capacity as well.
Property damage beyond what insurance provides. You may be able to recover some vehicle repair costs through the insurance claim process, but any property losses not covered by insurance must be claimed through your personal injury suit.
Pain and suffering. North Carolina law allows the victim of a personal injury to seek compensation for the physical pain, emotional distress, and psychological suffering they experienced because of a defendant's actions. Nothing limits how much a plaintiff may claim in pain and suffering compensation for a vehicle accident, but the amount claimed should reasonably reflect the overall severity of their injuries and any long-term complications they will face.
You could have grounds to seek more compensation than you may expect, and hiring the right Whiteville car accident attorney to represent your claim can be a tremendous asset in your recovery efforts. When you choose Christina Rivenbark & Associates to represent you in a car accident case, our goal is to help you recover as fully as possible from your accident, and the sooner you contact our firm, the more time we have to build the strongest case possible on your behalf.
FAQs About Whiteville, NC Car Accident Law
Should I Hire a Car Accident Lawyer for My Recent Accident?
Unless your recent accident only resulted in minimal cosmetic damage to your vehicle, it is a good idea to speak with an experienced Whiteville car accident attorney before discussing any type of settlement with the other driver. The right attorney can not only assist you in filing an auto insurance claim and securing as much compensation as possible for insurance, but you will also need their assistance if you need to file a personal injury claim against the at-fault driver.
What Should You Do After a Car Accident That Was Not Your Fault in Whiteville?
The state operates on the fault rule for resolving car accidents, so proving fault for your accident is a critical first step toward securing the compensation you deserve from the other driver. You are required to call 911 to report an accident immediately and remain at the scene until first responders arrive. You should also take photos of your injuries, your vehicle's damage, and the surrounding area if you are able to do so safely. Once you receive medical care for your injuries, you should speak with a Whiteville car accident attorney as soon as possible.
Why Do I Need to Hire a Whiteville Car Accident Attorney?
It's technically possible to manage your own recovery efforts after a car accident without an attorney, but doing so is likely to be far more challenging than you may initially expect. Working with a seasoned attorney allows you to focus on your medical needs while they handle your legal affairs. You are not only more likely to succeed with an auto insurance claim and subsequent personal injury suit with their help but also more likely to maximize the total compensation you win from the defendant.
Will an At-Fault Driver Go to Prison for Causing an Accident in Whiteville?
When a car accident happens because of negligence, the at-fault driver typically faces liability for the damages they caused but will not be criminally prosecuted. However, if they caused the accident by breaking any law, it is a different story. For example, if they were intoxicated behind the wheel, they would face DUI charges, and their penalties could escalate significantly if they caused serious harm with their actions. Your Whiteville car accident attorney can advise you as to how any such variables may impact your recovery efforts.
How Much Does It Cost to Hire a Whiteville Car Accident Attorney?
Christina Rivenbark & Associates will not add to your financial concerns in the aftermath of a damaging accident by charging excessive legal fees. We take these cases on a contingency fee basis, meaning you will only pay our firm a fee if and when we win your case. Our contingency fee will be a percentage of the total compensation we win on your behalf, and you owe nothing if we cannot obtain compensation for your damages for any reason.
The aftermath of any car accident will be much easier to face with an experienced Whiteville car accident attorney on your side. Christina Rivenbark & Associates offers client-focused and compassionate legal counsel for anyone in this situation, and we have successfully secured many substantial case awards on behalf of past clients injured in motor vehicle accidents. The sooner you reach out to our team, the more time we have to work on your case. Contact us today to schedule your free consultation with a Whiteville car accident attorney you can trust to help you recover.