Whiteville Social Security Disability Attorney
People in Whiteville, North Carolina, are typically hardworking and dedicated to their jobs. Many of the workers in Whiteville enjoy long and fruitful careers, working decades in one or multiple fields and becoming skilled at what they do. However, sometimes, due to accidents or unfortunate working conditions, a North Carolina worker's career can be cut short.
If you are no longer able to work due to a disability, you may be wondering how you will be able to continue to survive without your prior income. Federal programs, such as social security disability insurance, can help support you in the long run if you are not able to work. However, understanding how to apply for and receive SSI or SSDI benefits can be confusing and disorienting. A social security disability attorney from Christina Rivenbark & Associates can help you put your case into perspective, helping you understand which benefits you are eligible for and how you can go about applying for them.
A compassionate social security disability lawyer from our firm can work with you one-on-one to understand what your questions and concerns are, and we can help you put forward a strong social security application. Our lawyers can help you gather all of the evidence you need, such as medical records and accident logs from your job. Christina Rivenbark & Associates can help you fight for the benefits that you are entitled to under North Carolina and federal law.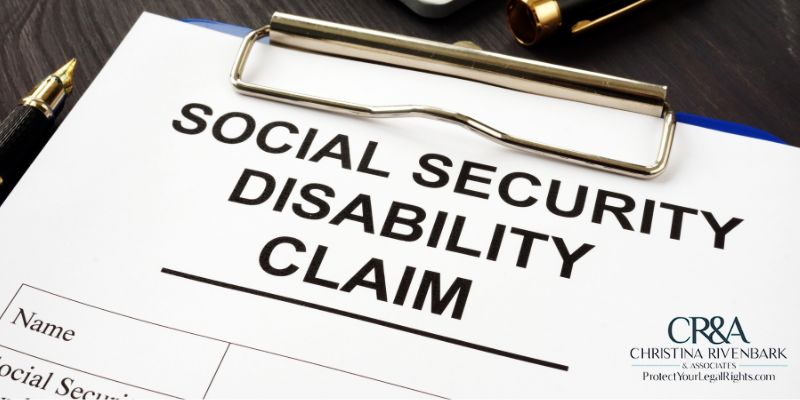 Understanding the Difference: Social Security Disability Insurance (SSDI) vs. Supplemental Security Income (SSI)
It can be difficult to understand the difference between social security disability insurance and supplemental security income, but it's important to distinguish between the two so that you can be aware of which program you may be entitled to apply for. Both SSDI and SSI are carried out by the Social Security Administration, or SSA, which is a federal administration, and therefore is not managed directly by North Carolina state jurisdiction.
Each of these programs has the goal of providing assistance for individuals who are no longer able to work because they have one or more disabilities, but they each have different benefits. There are some cases where workers can be eligible to receive both SSI and SSDI.
SSI is a program that grants money to people based on how much money they have, including their wages, any assets they may have, and the extent of their disability. In order to receive SSI, you are not required to have had an extensive work history or have paid into Social Security. There is a federal minimum level that individuals can earn, but states can pay into this to help support those receiving benefits. People who get SSI may be able to get Medicaid coverage as well.
SSDI is a federal program made for people who have been working and paying into Social Security. In order to get SSDI benefits, a worker will need to have worked a certain amount of time and paid a certain amount of money in taxes to Social Security. In order to calculate how much in disability benefits a person can receive, the average amount of money they made over the course of their working history before the incident that made them disabled will be taken into account.
FAQs About Whiteville, NC Social Security Disability Law
How Can I Qualify for North Carolina Disability?
It can be difficult to qualify for disability, such as supplemental security income or social security disability insurance in North Carolina. You will need to be able to prove that you are disabled to the point of not being able to work in your current job anymore and that you are not able to work in other kinds of jobs due to your disability. Typically, to receive benefits from SSI, your disability will have to be severe. To get SSDI, you will need to have worked for a certain amount of time and contributed to social security taxes.
How Much Do People Receive for Social Security in North Carolina?
The amount of social security that you will receive depends on the type of program that is providing you with benefits, what your income is, how severe your disability is, how long you have worked before becoming disabled, and how much you have paid in social security taxes. As of 2022, the average amount that people were receiving for SSI was around $600.
Can I Work Another Job While on Social Security in North Carolina?
It is possible to work another job while receiving social security benefits in North Carolina, but it is important to know that you are required to present all of your earnings to the social security administration. Based on this, they subtract any money that you have made from your monthly payment. If you make over a certain amount, then your social security payments can be canceled completely.
What North Carolina Disability Is Approved the Most?
In North Carolina, there is no disability that gets prioritized or that automatically gets approved more than other kinds of disabilities. However, common disabilities that are seen to get approval are arthritis and musculoskeletal disorders. Severe mental disorders, such as PTSD, can be commonly approved as well. Getting a disability approved is more dependent on the severity of the disability and whether or not there's sufficient evidence of it.
Don't Wait: Discover How You Can Secure Your Future Today
The waiting period between becoming disabled and receiving social security or other long-term benefits can be extremely stressful, as you cannot know what is going to happen next. The social security disability lawyers at Christina Rivenbark & Associates are fully aware of how difficult this can be, and you can count on us to be transparent and communicative every step of the way. A lawyer from our firm will stand up for you and put an optimal case forward so that you can increase your chances of getting the benefits appropriate for your case. Get in touch with our team today to learn more about securing your rights to social security.