Jacksonville, NC Construction Accident Attorney
Construction is one of the most dangerous industries in the United States, but it is also one of the most crucial. Every day, construction workers in Jacksonville and across the state of North Carolina work in some of the most dangerous conditions anyone can face at work. Even construction workers who have seemingly simple duties on a job site face severe risks of all types of injuries, some of which could prove catastrophically damaging or even fatal.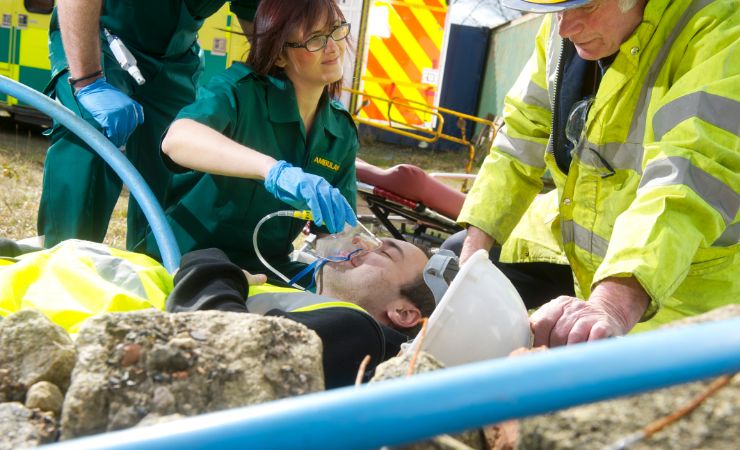 Helping Jacksonville, North Carolina, Construction Accident Victims Recover
When a construction accident happens, a worker could sustain life-changing injuries unexpectedly, leaving them to wonder how they could recover from this type of incident. Experienced legal representation is essential and invaluable for anyone in this situation. If you or a loved one recently suffered a construction accident injury, you need a Jacksonville construction accident attorney you can trust to guide you through your recovery efforts.
Filing for Workers' Compensation Benefits in Jacksonville
The workers' compensation claim filing process may seem simple enough at first, but the reality is that many claimants experience all types of complications with these claims. Workers' compensation functions like any other type of insurance, and you must be prepared to file your claim to your employer's insurance carrier. They will investigate the claim and deliver their response, but you face the added complication of your employer's involvement.
While most employers fulfill their legal obligations to their employees under the state's workers' compensation laws, some do not, and some go so far as to directly interfere with their employees' legitimate claims and/or retaliate against them out of concern for rising premium costs on their workers' compensation insurance. Having an experienced attorney on your side from the outset of your claim filing process will significantly reduce the chance of experiencing unethical interference from your employer and/or an insurance company.
A successful workers' compensation claim can provide full coverage of all the medical treatment costs you face for recovering from your injury. You can also qualify to receive ongoing disability benefits if you cannot resume work immediately due to your injury.
Taking Further Legal Action for Construction Accidents
Workers' compensation insurance generally shields an employer from civil liability for an injured worker's damages. You cannot sue your employer after an injury at work, but there are some cases in which this would be permissible. If your employer doesn't have workers' compensation insurance, misclassified the nature of your employment, or directly caused your injury, their immunity would no longer apply, and you could proceed with a civil action.
It's also possible to have grounds for a personal injury claim against a third party outside your work. For example, if anyone outside your work caused a construction accident that injured you, you could still file for workers' compensation benefits since the injury happened while you were working. However, you would also have the right to file a third-party personal injury claim against the responsible party to seek compensation for any outstanding losses that workers' compensation insurance can't cover.
Ultimately, any construction accident victim in Jacksonville can face a host of complex legal proceedings after a workplace injury. It's natural to have lots of pressing legal questions in this situation, and the best thing you can do is find an attorney you can trust as soon as possible. The attorneys at Christina Rivenbark & Associates are capable of handling complex workers' compensation claims and personal injury actions on behalf of clients in Jacksonville. We're ready to help you maximize your recovery from your construction accident.
FAQs About Jacksonville, NC Construction Accident Law
Do I Need to Hire a Jacksonville Construction Accident Attorney?
There may not be a strict legal requirement that you hire representation after a construction accident in Jacksonville, NC but the right attorney can significantly improve the quality of your recovery in various ways. You can rely on your Jacksonville construction accident attorney to provide ongoing support and help you navigate your case while you focus on your recovery, and even after accounting for your legal fees, they can significantly improve the final results you reach.
What Happens If I Caused My Own Construction Accident Attorney?
As long as your injury happened while you were performing your job duties, you can still qualify for workers' compensation benefits if you caused the injury to yourself by making an honest mistake. However, if it is revealed that a claimant caused their own injury because they were under the influence of drugs or alcohol, violating a workplace safety rule, or if they were egregiously negligent beyond the scope of mistakes made in good faith, the insurance company could deny their claim for workers' compensation benefits.
How Much Compensation Can I Obtain From a Personal Injury Claim?
A workers' compensation claim may cover your medical expenses and a portion of your lost income while you are unable to work. If you have grounds to file any kind of personal injury claim alongside your workers' compensation claim, you could potentially recover compensation for all remaining economic damages that workers' compensation won't cover, along with compensation for the pain and suffering you experienced. Your Jacksonville construction accident attorney can provide an estimate of the total compensation you could secure from your civil claim.
Is It Worth Hiring a Jacksonville Construction Accident Attorney?
While you may have reservations about the potential cost of your legal representation, the right attorney can have a tremendous positive impact on your recovery efforts after a construction accident in Jacksonville. You can rely on your legal team to manage your case proceedings and prepare you for each new step in your recovery efforts, and you are far more likely to maximize your compensation with their assistance.
Christina Rivenbark & Associates has years of experience in North Carolina personal injury law and workers' compensation claims. We know the challenges facing victims of construction accidents in the Jacksonville area and provide compassionate, client-focused legal representation in every case we accept. If you are ready to explore your options for legal recourse after a construction accident injury, contact us today to schedule a free consultation with a Jacksonville construction accident attorney.