Jacksonville Drunk Driving Accident Attorney
Every year in North Carolina, drunk driving causes a significant number of accidental injuries and fatalities. Despite the fact that the state enforces some of the toughest laws against driving while intoxicated (DWI) in the country, drivers continue to violate these laws in various ways. When a driver is caught operating a vehicle while impaired by drugs or alcohol, they face criminal prosecution and a host of penalties. If they injure or kill someone because of DWI, their penalties can increase dramatically, and they will also be responsible for the damages they caused to the victim.
Helping Jacksonville Clients Recover From Drunk Driving Accidents
If you or a loved one recently suffered injuries in an accident caused by a DWI driver, a Jacksonville drunk driving accident attorney can provide the legal support and guidance you need to hold them accountable for their actions and secure compensation for the losses they inflicted. Navigating any civil case pertaining to an act of illegal misconduct like DWI is very different from a standard personal injury claim resulting from an act of negligence. Therefore, the victim needs legal representation from an attorney experienced with this type of case.
Christina Rivenbark & Associates offers compassionate and responsive personal injury representation in Jacksonville. Our diverse professional experience with both personal injury law and criminal defense enables us to provide unique insights in our clients' drunk driving injury cases. When this type of criminal action has injured you or a family member, a Jacksonville drunk driving accident attorney is an invaluable asset to have on your side as you approach the complex recovery efforts ahead of you.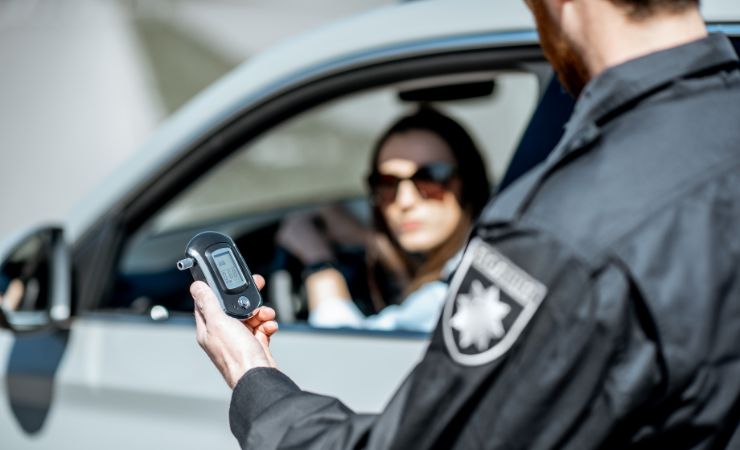 North Carolina DWI Penalties
Every state enforces different laws pertaining to DWI offenses, and the penalties for conviction of DWI can fluctuate significantly based on the unique details of the case. The standard penalty for a first-time DWI conviction in Jacksonville, NC is likely to include a fine, suspension of the defendant's driver's license, jail time, and probation. Penalties increase when a defendant has committed a prior DWI offense recently, or if their intoxicated driving caused an accident. If they have caused an accident, penalties increase further based on the severity of injuries they caused or if the accident was fatal.
When it comes to DWI accidents resulting in injury or death, the defendant faces not only significantly increased penalties for a conviction in the criminal case filed by the state but also a civil claim for damages from the victim and their family. The criminal charges against the defendant can influence the victim's civil claim in various ways, from the judge in the criminal trial, including restitution to the victim as part of the defendant's sentence to the civil court judge assigning punitive damages to the defendant. When a plaintiff qualifies to receive punitive damages, North Carolina law caps this aspect of their recovery at three times the amount of their claimed compensatory damages or $250,000, whichever is greater.
How to Recover From a Drunk Driving Accident in Jacksonville
The initial aftermath of any serious car accident can be very difficult for the victim to navigate, and it is best for them to seek medical care immediately before reaching out to legal counsel they can trust to guide them through their recovery efforts. State law requires all drivers to have auto insurance, and filing an insurance claim is usually the first step in recovering from any car accident in Jacksonville. However, many claimants encounter unexpected difficulties with their insurance claims, and it is unlikely for a basic coverage policy to fully cover the damages the defendant may have caused.
Working with a Jacksonville drunk driving accident attorney offers you the best chance of recovering as fully as possible. Christina Rivenbark & Associates can provide the legal counsel you need, helping you determine the best options for legal recourse. Most victims of drunk driving accidents face complex insurance claims followed by personal injury cases and potential involvement in a criminal case filed by the state. You could be called to testify as a witness in the defendant's criminal trial or submit to depositions, and our legal team will help you understand all the various legal mechanisms that come into play throughout your case.
Compensation for Drunk Driving Accidents in Jacksonville
North Carolina law allows the plaintiff in a personal injury case to seek full repayment of all the economic losses the defendant caused them to suffer from the accident in question. An auto insurance claim can provide some initial compensation for the plaintiff's medical expenses and vehicle repair costs, but many drunk driving accidents are tremendously damaging. It's likely for your claimable losses to easily outpace the defendant's insurance coverage, and you will need to file a civil suit against them to fully recover.
When you file your personal injury claim for a drunk driving accident, your attorney will help you establish the defendant's fault and prove the full scope of the damage they caused. Under state law, you have the right to claim full repayment of all the economic losses the defendant caused you to suffer that their insurance can't cover, such as medical bills and ongoing medical expenses for severe injuries, lost income, lost earning power, and property damage that exceeds their insurance coverage. You also have the right to seek compensation for the pain and suffering they caused.
The state may not enforce any strict caps or limits on pain and suffering compensation in most personal injury cases, but it can be difficult for the average person to determine a suitable amount based on the severity of their experience. Your Jacksonville drunk driving accident attorney will be invaluable in this respect, helping you maximize your pain and suffering compensation by clearly demonstrating the scope of the effects the incident has had on your life and the lives of your family members.
Christina Rivenbark & Associates can provide the answers you need when you are unsure how to recover from a drunk driving accident. We know how damaging these incidents can be and the many legal questions a victim is likely to have in the aftermath of any drunk driving accident. The sooner you speak with a Jacksonville drunk driving attorney, the better your chances are of reaching a favorable outcome for your recovery efforts.
FAQs About Jacksonville, NC Drunk Driving Accident Law
How Much Compensation Could I Receive for My Drunk Driving Accident Claim?
State law enables the plaintiff of any civil claim to seek full repayment of all the economic losses the defendant caused them to suffer. They also have the right to seek pain and suffering compensation that will enhance their total recovery significantly. However, when a personal injury occurs due to intentional and/or criminal action, the defendant faces additional penalties that may include further financial liability in the form of restitution or punitive damages. Your attorney can advise you as to whether such variables could come into play in your case.
Will a Driver Go to Jail for Causing a Drunk Driving Accident in North Carolina?
DWI is a crime with penalties that usually include a fine, incarceration, probation, and driver's license suspension. The state increases these penalties when a defendant has committed multiple DWI offenses or if they caused serious bodily injury or death. While a judge may be willing to consider alternative penalties for a first-time DWI offender who did not cause any serious harm or injuries, penalties for DWI conviction usually increase substantially whenever a DWI driver has injured or killed someone while under the influence.
What Happens if a Drunk Driver Causes a Fatal Accident in Jacksonville?
If a DWI driver causes a fatal accident, the penalties they could face for conviction will increase dramatically. Additionally, the victim's family would have the right to pursue a wrongful death action in lieu of a personal injury case the victim may have filed if they survived. Therefore, if you recently lost a family member in a DWI accident, it is crucial to speak with an experienced attorney as soon as possible to discuss your options for holding the at-fault driver appropriately accountable.
Do I Need to Hire a Jacksonville Drunk Driving Attorney?
There may not be a strict rule that you must hire an attorney for your drunk driving accident case, but you are unlikely to reach as successful a result as an experienced attorney could reach on your behalf. If you are concerned about the cost of hiring legal counsel, remember that you stand to lose more than it could cost to hire an attorney if you attempt to handle the case on your own.
Christina Rivenbark & Associates has years of experience in both personal injury cases and criminal cases pertaining to DWI offenses. We know how state prosecutors tend to seek convictions in these cases, and the common obstacles that injured drivers face in their recovery efforts. If you need assistance holding an at-fault driver accountable for a recent drunk driving accident,  contact us today to schedule a case evaluation with a Jacksonville drunk driving accident attorney.