Jacksonville Wrongful Death Attorney
When you have suffered a physical injury and/or economic loss because of another party's actions in Jacksonville, NC, this can lead to a personal injury claim and you can seek compensation for the losses the at-fault party caused you to suffer. However, if a victim dies from a personal injury, their surviving family must prepare for a wrongful death claim instead. While similar to a personal injury case in various ways, there are unique statutes that apply solely to wrongful death claims, including who may file such a claim, the damages available, and the limitations on the damages a plaintiff can seek from a defendant.
Compassionate Legal Representation for Jacksonville Wrongful Death Cases
Losing a loved one unexpectedly is never easy, but learning that your loved one died because of another party's actions can make an already difficult situation even harder for you and your family. The right Jacksonville wrongful death attorney can provide the support your family needs in this situation, helping you hold the at-fault party accountable for the damage they have caused.
Christina Rivenbark & Associates can provide the compassionate legal representation your family needs after losing a loved one to another party's misconduct or carelessness. Our team of Jacksonville personal injury attorneys has the experience and professional resources needed to hold a defendant fully accountable for the damage they've done to you and your loved ones.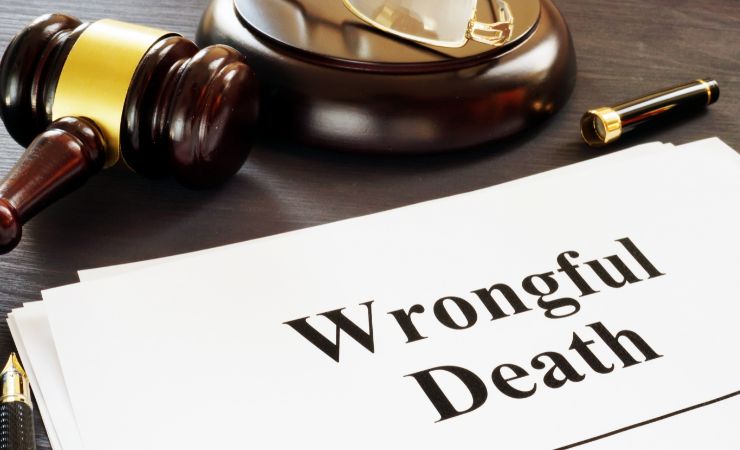 Benefits of Legal Counsel for Your Wrongful Death Suit
It may technically be possible to file a civil suit against another party without an attorney, but this is never a good idea, especially in an emotionally taxing case pertaining to your loved one's death. The average person would be likely to make serious mistakes in the preliminary stages of their case, potentially diminishing their ability to hold the defendant accountable. They could also unintentionally accept a lower settlement than they legally deserve, unaware of the full scope of damages they are legally able to claim from the defendant.
When you hire an experienced Jacksonville wrongful death attorney to handle your family's claim, you can focus on your household and mourn in peace, knowing your legal affairs are in trustworthy hands. The attorneys at Christina Rivenbark & Associates have successfully represented many wrongful death claims on behalf of clients across the state. As a result, we are keenly familiar with the statutes that apply to this type of case and know the challenges that could lie between you and your family's compensation.
Common Causes of Wrongful Deaths in Jacksonville
A few of the most commonly reported causes of wrongful deaths in the Jacksonville area include:
Motor vehicle accidents. All drivers must have appropriate auto insurance coverage, but an insurance claim against the driver who caused your loved one's death may only cover a fraction of the total damages resulting from the incident. In addition, depending on how the at-fault driver caused the death, they may face prosecution for their actions.
Premises liability. If a loved one died from a slip and fall or another injury on another person's property, the property owner could be liable for the death under the state's premises liability statute. You must prove the property owner knew or should have known about the hazard that caused the death to hold them accountable.
Interpersonal violence, including domestic violence. In the event your loved one was killed by another person through an intentional act of harm of any kind, the defendant could face prosecution for homicide in addition to liability for your family's damages.
Workplace accidents. Some industries are inherently dangerous. If you lost a loved one in a fatal work accident, their employer's workers' compensation insurance policy could offer some compensation in the form of death benefits. However, a Jacksonville wrongful death attorney can help you determine whether you have grounds for further legal recourse to hold them accountable.
No matter how the death occurred, your Jacksonville wrongful death attorney will be an invaluable resource in many ways throughout all stages of your case. The first challenge you face in a wrongful death suit is proving exactly how the death occurred and identifying the party or parties responsible. Once you accomplish this, your attorney will help you establish your damages and seek maximum recovery from the defendant.
It is vital to note that the state enforces a contributory negligence law, which will come into play if an investigation reveals that your deceased loved one contributed to causing their own death in some way. If the deceased bore even partial fault for the incident that took their life, contributory negligence applies, and the defendant would not be liable for wrongful death. Therefore, it is crucial for any family thinking of filing a wrongful death action in Jacksonville to consult an experienced attorney as soon as possible after the death in question to have the best chance of success with their case.
Damages Available in a Wrongful Death Claim
If you suffer a personal injury, you have the right to claim compensation for your losses from the defendant who caused them. A personal injury case revolves around the plaintiff's damages and compensation, whereas a wrongful death claim focuses on compensation for the victim's family. If the victim could have filed a personal injury claim if they had survived, their loved ones may have grounds to file a survival action to seek compensation for the estate's damages. Otherwise, the family must prepare to file a wrongful death suit.
State law permits the plaintiff in a wrongful death case to seek full repayment of all the economic losses the death in question has caused for the family. Lost financial support and household services provided by the deceased are some of the most commonly claimed economic damages in Jacksonville wrongful death cases. In addition, the plaintiff also has the right to claim pain and suffering compensation for the family's loss of affection, care, guidance, and companionship that the deceased provided.
The family of the deceased can also claim reasonable funeral and burial expenses and compensation for any property damage the defendant caused along with the death. It can be difficult for anyone to think of financial and legal matters while reeling in the aftermath of an unexpected death in the family, but the right attorney can provide invaluable support during this difficult time.
FAQs About Jacksonville, NC Wrongful Death Law
How Much Is a Wrongful Death Claim Worth in North Carolina?
A wrongful death claim seeks compensation for the surviving family's financial damages and pain and suffering resulting from the death of their loved one. When any party causes a death through negligence or misconduct, they face liability for the financial support the victim provided to their family and the pain and suffering they endured. Your Jacksonville wrongful death attorney will help you seek maximum compensation for the losses inflicted by the defendant you have cited in your case.
How Long Does a Wrongful Death Suit Take in North Carolina?
The time required to complete a wrongful death case hinges on the clearness of liability for the death, the scope of the damages sought by the plaintiff, and whether the defendant is willing to accept responsibility for their actions. Your Jacksonville wrongful death attorney can give an estimate of the time your case is likely to take before reaching a firm conclusion.
Who Gets the Money From a Successful Wrongful Death Lawsuit in Jacksonville?
State law dictates that the proceeds collected from a successful wrongful death claim must be split between the deceased's surviving spouse and children. If they had no such kin, the money won from the lawsuit goes to other immediate family members and beneficiaries. Therefore, it's important to note that while wrongful death claim settlements are distributed according to the North Carolina intestate succession law, they will not be included in the deceased's estate.
Will the Defendant Go to Jail if I Win My Case?
Your civil suit is a legal action claiming compensation for losses inflicted by the defendant. If the defendant caused the death through a criminal act or by any act of intentional misconduct, the state may open a criminal case against them. Depending on how they caused the death, incarceration could be an element of the sentence handed down by the criminal court judge.
Do I Really Need to Hire a Jacksonville Wrongful Death Attorney?
There is no state law stating that you must hire legal counsel to file a wrongful death claim. However, due to the inherently complex and emotionally taxing nature of this type of case, it is always best to have legal representation you can rely on to guide you through the very challenging proceedings your case is likely to generate. Your attorney will handle all aspects of your case, prepare you for each new phase of proceedings, and ultimately help you reach a more acceptable outcome than you could have managed alone.
The attorneys at Christina Rivenbark & Associates know how devastating and frustrating it can be to lose a loved one unexpectedly due to the negligence or intentional misconduct of another party. If you are ready to speak with a Jacksonville wrongful death attorney about your case, contact us today and schedule a consultation to learn more about the professional legal services we offer.