Jacksonville, NC Texting While Driving Accident Attorney
Car accidents happen daily in the Jacksonville area and throughout North Carolina for countless reasons. While some car accidents occur due to a particular party's fault or error, a car accident can result from intentional misconduct or egregious negligence. One of the most commonly reported causes of car accidents across the country is distracted driving, and the most commonly cited form of distracted driving responsible for causing crashes is texting while driving.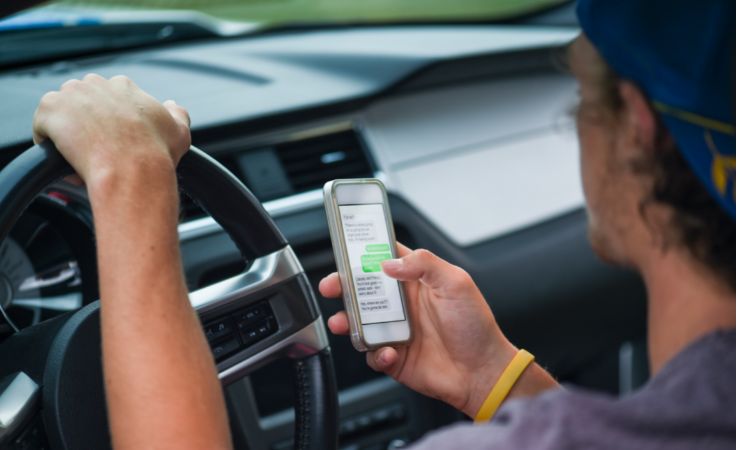 Helping Jacksonville, NC, Victims Recover From Accidents Caused by Texting While Driving
There are many ways drivers can use their cell phones safely behind the wheel, but there is an argument that even hands-free cell phone attachments can still present dangerous distractions to some drivers. However, manually reading and responding to text messages while behind the wheel is incredibly hazardous for the texting driver and everyone around them. Therefore, it is generally best for drivers to avoid using cellphones while driving, but when they do, and this behavior results in harm to others, they must be prepared to face liability for distracted driving.
Recovering From a Distracted Driving Accident in Jacksonville
The first step in recovering from a distracted driving accident is proving the accident was not your fault. North Carolina uses a fault rule to resolve car accident cases, and this means that whoever is responsible for causing the accident in question absorbs liability for the resulting damages. All drivers in the state are required to carry auto insurance, and you can file a claim against the driver who harmed you to recover some of your damages.
Unfortunately, many car accident victims in Jacksonville encounter unexpected problems with their claims, and some experience losses that vastly exceed the scope of insurance coverage available to them. In these situations, injured drivers need legal counsel they can trust to help them with their auto insurance claims and the subsequent civil claim proceedings likely to follow.
When you choose Christina Rivenbark & Associates to represent you in a civil claim against a distracted driver, our team will immediately get to work securing the evidence you need to firmly establish liability for the accident you experienced. In addition, we can assist you with your insurance claim, and if your settlement isn't enough to fully compensate your losses, we can help you proceed with a civil claim for damages against the at-fault driver.
Compensation for Your Damages in Jacksonville
An auto insurance claim may yield compensation for basic vehicle repair costs and some coverage for your medical expenses. However, if your damages exceed the at-fault driver's coverage, you will need to file a personal injury claim against them to recover any remaining losses. State law allows the plaintiff in a personal injury case to seek full compensation for all the economic losses they suffered, along with compensation for the pain and suffering they experienced.
Economic damages in most car accident claims include medical expenses, lost income during recovery from injuries, and property damage. However, severe accidents can generate more substantial long-term damage, like ongoing medical treatment costs for managing critical injuries and permanently diminished earning capacity due to disability. When it comes to pain and suffering compensation, state law does not limit the amount you can seek, and your attorney will help you determine what amount would be most suitable for your condition.
One important detail that anyone must remember if they plan to file any type of civil claim for damages in North Carolina is the state's law of contributory negligence. If an investigation reveals that a plaintiff was responsible for causing their claimed damages, they lose their right to seek compensation from the defendant. Even a slight amount of fault could negate your ability to recover your damages, and it's relatively common for defendants in the Jacksonville civil court to assert contributory negligence in their efforts to escape liability for distracted driving.
Christina Rivenbark & Associates can help you prepare a compelling case and provide ongoing guidance through all your recovery efforts. The sooner you secure reliable legal representation after a distracted driving accident, the better your chances are of ensuring the at-fault driver's liability and holding them fully accountable for the damage they caused.
FAQs About Jacksonville, NC Texting While Driving Accident Law
Is It Against the Law to Text and Drive in North Carolina?
Texting while driving is illegal in North Carolina, and the state also prohibits drivers under 18 from using cell phones behind the wheel entirely. If a driver causes an accident because they were distracted by their phone, they face liability for the damage they cause to others. However, they would also likely face a criminal charge filed by the state.
What Is the Penalty for Texting and Driving in North Carolina?
If a distracted driver causes an accident, they are liable for all damages. If it is revealed that they caused the accident because they were texting while driving, or if they are observed texting while driving by a nearby police officer, the standard penalty for this offense is a $100 fine and demerit points added to the driver's license. Penalties can increase if texting while driving directly causes an accident.
Why Is Texting While Driving So Dangerous?
Any distraction behind the wheel can potentially cause an accident. Manual distractions move the driver's hands away from their vehicle controls. Visual distractions pull their gaze away from the road and the traffic conditions around them. Finally, cognitive distractions can disrupt their attention and reduce reaction time when traffic conditions suddenly change. Texting while driving is an especially dangerous form of distracted driving because it essentially encompasses all three types of distractions in a single act.
Should I Hire an Attorney If a Distracted Driver Hurt Me?
North Carolina upholds a fault-based system for resolving auto accident claims and other civil claims for damages filed in the state. While it is technically possible for you to succeed with any personal injury claim on your own, you have a much better chance of success with your case when you have the right legal team assisting you.
Christina Rivenbark & Associates has extensive professional experience representing victims of car accidents in the Jacksonville, NC, area, including those caused by distracted drivers. We know how challenging it can be for an injured driver to prove the truth of their experience and secure the compensation they need to recover. If you believe you have grounds to file a civil action against the distracted driver who caused your accident, contact us today to schedule a free consultation with a Jacksonville texting-while-driving attorney.