Jacksonville, NC Motorcycle Accident Attorney
Motorcycles are common sights in the Jacksonville, NC, area, and most riders are fortunate to enjoy riding without problems. Unfortunately, motorcycle accidents can and do occur, and when they happen, they often cause much worse injuries than those that typically result from other vehicle accidents. Unlike an enclosed passenger vehicle, a motorcycle does not offer physical protection to a rider and/or a passenger. Therefore, whenever a larger vehicle hits a motorcycle or causes a motorcycle to crash, the motorcyclist is highly likely to suffer catastrophic injuries.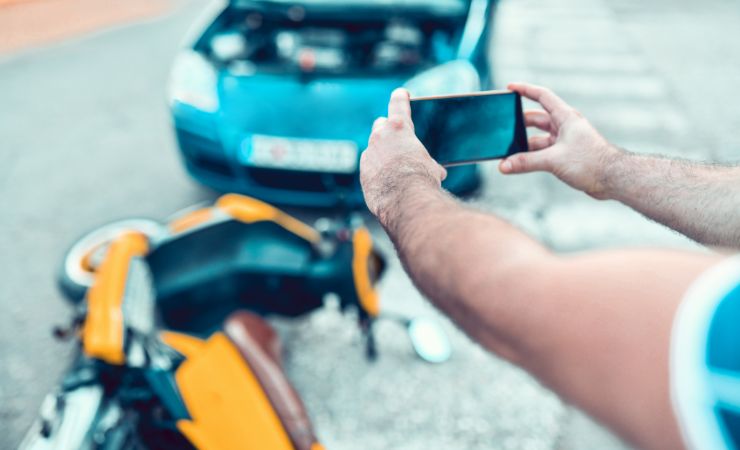 Legal Counsel for Injured Motorcycle Accident Victims in Jacksonville, North Carolina
Christina Rivenbark & Associates can provide the compassionate and responsive legal representation you will need to navigate your recovery efforts successfully. For example, you may face a very difficult auto insurance claim process followed by a personal injury case if an insurance claim can't fully cover your damages. While it is possible to attempt your recovery efforts on your own, you are far more likely to reach a positive outcome when you have experienced legal representation advising you.
Determining Fault for a Motorcycle Accident in Jacksonville
Before you can secure any compensation for the damages you experienced, you must prove fault for your recent motorcycle accident. This is easier in some cases than others, and the state enforces the fault rule to resolve claims for vehicle accident-related damages. All drivers must have auto insurance that meets the state's minimum liability coverage requirements, and any driver who causes a collision is liable for the resulting damages.
Motorcycle accidents can happen in Jacksonville unexpectedly for a variety of reasons, including:
Distracted driving, which is the top-cited cause of all vehicle accidents in the United States every year. Cell phone use, eating behind the wheel, and other distractions can easily cause devastating crashes.
Speeding. Any time a driver exceeds the posted speed limit, they put themselves and others at significant risk. Speeding dramatically reduces how much time and distance a driver will have to slow down, maneuver, or stop in time to avoid a crash.
Driving under the influence of drugs and alcohol, which can easily lead to criminal prosecution of the at-fault driver along with civil claims from any victims they harmed. Additionally, when a driver is convicted of DUI, their sentence can escalate significantly if they hurt or killed anyone due to driving under the influence.
Poor visibility. Motorcycles are smaller than most other vehicles on the road, making it easy for them to slip into other drivers' blind spots and go unnoticed in other precarious situations.
Disrupted traffic, such as moving violations like running stop signs, performing illegal turns, and anything else that might startle nearby drivers and cause them to crash.
Ultimately, no matter how your accident happened, you may need an experienced attorney's help to gather the evidence required to prove liability. Additionally, it is essential to ensure that you do not bear any partial liability for causing the accident. If you do, the state's contributory negligence law will apply to your case, and you will lose the right to seek compensation from the defendant.
Most North Carolina motorcycle accidents are the result of negligence or failure to exercise reasonable care and caution in specific situations. For example, as a licensed driver in the state, you have a duty of care to abide by posted speed limits and traffic signs and to refrain from operating your vehicle under the influence of alcohol. Success with your motorcycle accident recovery efforts requires identifying who is responsible for causing the crash, establishing the full range of damages resulting from the crash, and proving those damages could not have resulted from any other cause.
Filing Auto Insurance Claims After Motorcycle Accidents
The state requires all drivers to have auto insurance, and the at-fault driver is liable for all damages they cause. When another driver hits you, you can file a claim against their auto insurance policy to seek compensation for your damages. State law requires an auto insurance policy to include, at a minimum:
$30,000 in bodily injury liability coverage for a single person injured in an accident.
$60,000 in bodily injury liability coverage for all persons injured in an accident.
$25,000 in property damage liability coverage to pay for vehicle repair/replacement.
These coverage minimums may be enough to repay the damages resulting from a relatively minor accident, but many motorcycle accidents result in catastrophic personal injuries, some of which lead to permanent disability, inability to earn income, and diminished quality of life. Additionally, there is no guarantee that you will secure maximum compensation from the insurer, even if the fault for your accident is clear and beyond question.
Hiring an experienced Jacksonville motorcycle accident attorney will significantly improve the results you reach with your auto insurance claim after a motorcycle accident. If any disputes arise with the insurance company, your attorney can resolve them on your behalf and help you reach a fair settlement. If the settlement check you receive doesn't fully compensate for your losses, your attorney can then proceed with filing a personal injury action on your behalf, seeking compensation for all outstanding losses.
Compensation for a Personal Injury in Jacksonville
State law dictates that the victim of any personal injury has the right to seek full repayment of all the economic losses they suffered because of the defendant's actions. The immediately recognizable economic damages that most plaintiffs cite include medical expenses for the treatment they required after the incident in question and compensation for wages they were unable to earn while they were in recovery. They also have the right to claim compensation for vehicle repair costs and other property losses not covered by the at-fault driver's insurance.
However, these are only the most recognizable of a client's claimable economic damages. An experienced attorney can help them determine whether they have the right to seek more expansive recovery for the long-term or permanent damages they face due to their accidents. Therefore, a skilled Jacksonville motorcycle accident attorney is the ideal asset to have on your side if you want to maximize the compensation you receive from your personal injury case.
A motorcycle accident can easily cause catastrophic physical injuries that demand extensive emergency treatment, and after initial recovery and stabilization, many of these victims face incredibly challenging roads to recovery. Some will never regain full mobility or functional capacity. In addition, their immediate medical expenses and inability to work can quickly create a desperate financial situation for their household, and it is easy for anyone in this situation to feel lost when it comes to how they can manage future expenses when they have been left unable to work.
An experienced Jacksonville motorcycle accident attorney can provide the best chance of maximizing compensation for your immediate and long-term economic damages resulting from the motorcycle accident. Additionally, many personal injury plaintiffs are surprised to learn their claims are worth much more than they initially expected once they have connected with reliable attorneys to represent them in their claims.
Beyond your economic damages, you also have the right to seek financial compensation for the physical and psychological distress you suffered. Experiencing any vehicle accident can be incredibly painful and traumatic, especially when the victim suffers extreme injuries in the event. While it may sound like it would be hard to quantify the severity of your pain and suffering in monetary terms, your Jacksonville motorcycle accident attorney will be invaluable for determining a suitable amount to include with your other claimed damages. Therefore, when you choose Christina Rivenbark & Associates to represent you in your motorcycle accident claim, our goal will be to maximize the compensation you obtain from the defendant in the most efficient manner possible.
Resolving Your Personal Injury Case in Jacksonville, NC
Many motor vehicle accidents can be resolved by filing the appropriate insurance claims. As long as the at-fault driver accepts responsibility, provides their insurance details, and both drivers uphold their respective reporting requirements under state law, there may be no need to pursue further legal recourse. However, if you cannot recover full repayment of your losses through your claim against the at-fault driver's insurance, you will need to file a personal injury case.
Most personal injury cases filed in the state end with privately negotiated settlements. The settlement negotiation process allows all parties involved to avoid the stress and expense of litigation as long as they are willing to negotiate and compromise with one another. If a defendant contests the damages sought by the plaintiff, denies liability, asserts contributory negligence or more than one defendant is responsible for the crash in question, the case may need to be resolved through litigation.
It's natural to feel overwhelmed by the legal proceedings you could face after a motorcycle accident someone else caused. While you may have concerns about the potential cost of legal representation for your claim, you have the best chance of recovering from your accident as fully as state law allows when you have the right attorney handling your case. The sooner you connect with an attorney you can trust, the sooner they can begin building your case. Time is a critical concern when filing an insurance claim, and you have a very limited window to file your claim after an accident. Therefore, it's best to have an attorney assist you with your insurance claim, and you will need ongoing counsel if you intend to pursue further legal recourse with a civil claim for damages.
FAQs About Jacksonville, NC Motorcycle Accident Law
How Much Is My Motorcycle Accident Claim Worth in Jacksonville?
You could potentially secure far more compensation than you initially expected from your motorcycle accident claim if you have the right attorney representing you. A good Jacksonville motorcycle accident attorney will help their client calculate all immediate and future damages they can claim from the defendant to maximize their recovery. A plaintiff also has the right to pain and suffering compensation that reflects the severity of their experience.
Do I Need an Attorney to File an Auto Insurance Claim?
Filing an auto insurance claim is likely to be the first step you take toward recovery, just like it would be for any other vehicle accident. However, motorcycle accidents tend to involve more significant damage, and it's possible for liability for the accident to be contested. Your Jacksonville motorcycle accident attorney can streamline the filing of your claim significantly and greatly improve the final case award you obtain.
What Are the Most Common Motorcycle Accident Injuries?
A motorcycle can do very little to protect a rider in a crash, and even the best riding gear can only mitigate the severity of injuries, not prevent them entirely. Traumatic brain injuries, broken bones, "road rash," and spinal cord injuries are just a few of the most commonly reported injuries from motorcycle accidents in the Jacksonville area. When motorcycle accident victims do not survive these incidents, their surviving loved ones may pursue wrongful death claims in lieu of the personal injury actions they could have filed had they survived.
Will a Driver Go to Jail for Causing a Motorcycle Accident?
Most vehicle accidents occur because of negligence or failure to exercise reasonable care. While not exactly a crime, a defendant still faces substantial civil penalties for causing a motorcycle accident. However, the driver responsible for causing a motorcycle accident could face criminal charges if they engaged in any willful misconduct that led to the crash.
How Much Does a Jacksonville Motorcycle Accident Attorney Cost to Hire?
It's understandable to worry about the potential cost of legal fees for your motorcycle accident claim. Christina Rivenbark & Associates accepts personal injury clients on a contingency fee basis, meaning there is no fee for our clients unless we secure compensation on their behalf. Their fee is a percentage of their case award, and the client owes no ongoing legal fees during their case and nothing at all if their attorney fails to secure a recovery for them.
Christina Rivenbark & Associates has successfully guided many past clients through all types of motorcycle accident claims. Whether you are filing a civil action on your own behalf, representing a critically or fatally injured loved one, or facing a contentious insurance claim dispute after another driver injured you, we can help. Contact us today to schedule your consultation with an experienced Jacksonville motorcycle accident attorney you can trust to guide you through your recovery efforts.