Oak Island Car Accident Attorney
Car accidents come in many forms, whether standard wrecks, pile-ups, truck accidents, or others. The one thing they all have in common, though, is that they are costly. A car accident can lead to medical bills, repair bills for vehicles and other property involved, and even things like pain and suffering due to resulting injuries. These costs are the responsibility of the party who was at fault for the accident.
Typically, they are paid out by that party's insurance company. These companies, though, are not always quick to pay out what they are supposed to. It can be necessary to negotiate and even potentially file a claim. Working with an experienced legal team, like the one at Christina Rivenbark & Associates, can be essential. We are ready to negotiate on your behalf and, if necessary, take the insurance company to court.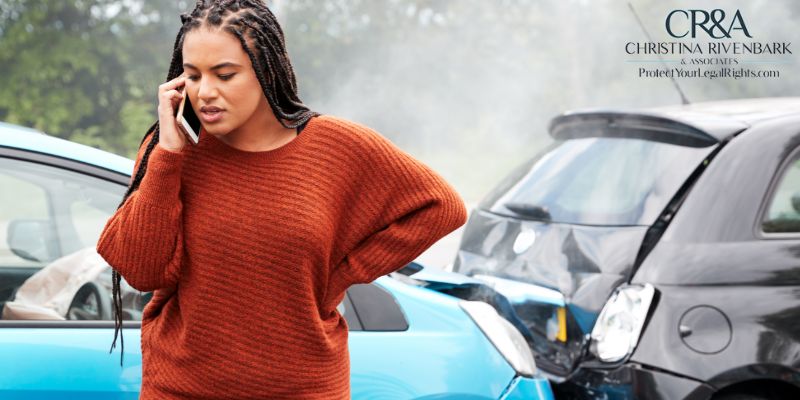 Fault in a Car Accident in Oak Island, NC
A car accident is a subset of personal injury claims. This means that fault in a car accident is determined very similarly to how it is established in a personal injury case. Generally, to prove fault, you will need to be able to establish three components:
Duty – The first component of a car accident claim is, more or less, a given. It is the idea of duty to care, which means that the defendant has a responsibility to act in a way that is respectful and careful of their actions in light of the effect that those actions may have on others. Generally, it is understood that someone with control of a motor vehicle has a responsibility to handle that vehicle in a way that is carefully respectful of those around them.
Breach – The second thing that needs to be shown is that the defendant failed to live up to their duty in that situation. In a car accident, this is typically done by showing how the driver failed to follow the rules and expectations of the road. Things like violations of traffic laws, proof of distracted driving, or evidence of reckless driving can all be indicative of a breach of duty.
Cause – Lastly, a causal link must be established between the breach of duty and the accident that led to your injuries. This may also seem like a given in a car accident, but it's not always so. For instance, imagine that one driver is speeding through an intersection. At the same time, another driver runs a red light and has an accident with the first driver. While, technically, the first driver did commit a breach of duty, you would have a hard time arguing that the ensuing accident was their fault. Therefore, it must be shown that the breach was the direct cause of the accident in question.
Damages in an Oak Island Car Accident Case
Damages is the legal term for the financial award that is determined at the end of a successful personal injury claim. This is meant to cover the costs that the injured party incurred as a result of the accident. However, there is also a level of proof that is required for this. If you are seeking damages for something, you must be able to show that the cost was a direct result of the accident in question. Part of what your lawyer will be responsible for is making that case before the court. Generally, the damages awarded in a car injury claim will fall into two categories:
Economic Damages – These damages cover the costs of things that are quantifiable. In other words, if it's a cost that has a monetary value, even if that means estimating the future monetary value, it is lumped into the economic damages. In a car accident, this will most frequently be things like medical bills and property damage costs for damage to your vehicle or other property involved in the accident.
Non-Economic Damages – These damages cover the costs of things that aren't quantifiable. There are often mental, emotional, and psychological costs that can come along with the injuries sustained in a car accident. Things like pain and suffering, loss of enjoyment in life, and anxiety and depression can be brought on by such injuries. While money can't fix these things, it can sometimes relieve burdens elsewhere to allow more space for healing and time to address these issues. Using precedent, an award for these kinds of costs will be calculated.
FAQs About Oak Island Auto Accident Laws
Q: How Long Do I Have to File a Car Accident Claim?
A: Because a car accident claim is a form of personal injury claim, you typically have three years from the time of the accident to file one. There are very rarely any exceptions to this, so it's important to act as quickly as possible. If there was a death involved with the accident, then the timeline gets even shorter, as the claim is no longer a standard personal injury claim but rather a wrongful death claim. In these cases, you only have two years from the time of the injury to file a claim. While this may seem like a long time, in terms of being able to investigate the situation and put together a strong argument, it is actually a very short timeline. Don't delay in getting in contact with the team at Christina Rivenbark & Associates so we can begin putting together your claim.
Q: How Can a Lawyer Help With a Car Accident Claim?
A: A lawyer for a car accident claim can perform a variety of different functions. First, we investigate the accident on our own to better understand who may be the at-fault party. Typically, this will be another driver, but it may also be someone like the manufacturers of a part that failed. It could be the employer of someone who caused an accident while performing work duties. It might even be the local government if something like damaged roads or faulty traffic signals are to blame.
We can also negotiate with the insurance companies on your behalf. They have a tendency to think that they can bully individuals into taking anything that they offer because people don't often have experience with these kinds of negotiations. We, though, have that experience and can hold the insurance companies accountable. Finally, if necessary, we are more than prepared to take a case to court and argue in front of a judge for the restitution that you deserve.
Q: Is There a Cap on Damages in a Car Accident Case?
A: No, there is no cap on the damages that can be awarded in a car accident case. You can be assured that a successful claim can result in all your medical bills, property damages, and missed wages being covered, along with any pain and suffering or other emotional, mental, and psychological costs that you have suffered as a consequence of the accident.
Q: What Should I Do If I've Been in a Car Accident?
A: The moments after a car accident can often be chaotic and make you feel a bit delirious. However, to the extent that it is possible, given the nature of any injuries that you may have sustained, making use of the moments after a car accident can be extremely helpful in giving you a good chance at winning your case. If you've been in an accident, it's important to remember a few basic things. The first is to get medical treatment for your injuries. This includes allowing paramedics to check you for traumatic injuries at the scene of the accident. You should also get a more extensive medical examination later for lesser injuries that may have been missed.
It's important to document the scene of the accident to whatever extent that you or someone with you is able to. This includes pictures and videos of:
The scene
The vehicles involved
Injuries
Damage
Relevant traffic signs
All these can be invaluable in proving your case. The same goes for collecting the contact information of the other drivers and any eyewitnesses who may have seen the accident. Lastly, until you talk with a lawyer, be very careful about what you say about the accident to insurance companies and any of the other drivers involved. They will be looking to use anything that sounds like an admission of fault against you.
We Fight for What You're Owed After a Car Accident
Typically, the costs associated with a car accident are the responsibility of the at-fault driver's insurance. It's important to realize, though, that these insurance companies are not charities. Their profits are negatively impacted by every claim that they pay out. This means that they often aren't eager to pay out what they should. You may have to fight them for what you're owed. They have teams of lawyers working to make sure that their responsibility is minimized. It's important that you have a team of your own when seeking what you deserve.
At Christina Rivenbark & Associates, we are ready to be that team for you. Our experience in handling personal injury claims of all sorts, including car accidents, can be beneficial in ensuring that you have a strong case for the liability of the other party and for the damages that you seek. Contact us to discuss your car accident claim.