Oak Island Pedestrian Accident Attorney
Thousands of pedestrians walk through busy urban areas every day, and it is vital for all pedestrians to know the risks they face when walking near moving traffic. If you or a loved one recently sustained injuries due to the negligence or misconduct of a driver, an Oak Island pedestrian accident lawyer can help you hold them accountable for your damages and secure maximum compensation for your losses.
While any accident can be devastating, suffering a pedestrian accident due to another's negligence compounds the pain and frustration.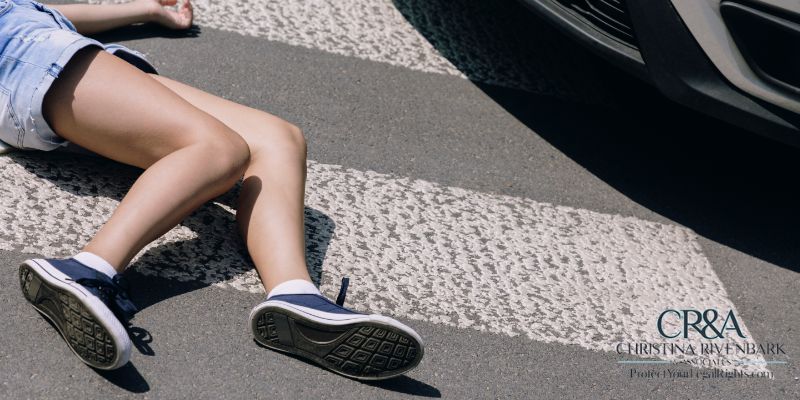 Helping Injured Pedestrians Recover in Oak Island, NC
Christina Rivenbark & Associates has extensive professional experience handling all types of personal injury claims in Oak Island, including those arising from pedestrian accidents. While any personal injury claim can potentially be difficult to resolve, pedestrian accidents tend to result in catastrophic injuries and substantial losses. If you find yourself in the aftermath of this type of incident, you need legal counsel you can trust to guide you through your case.
Our team believes in client-focused legal counsel for every case we accept. This means you can trust our team to take time to get to know you and your situation, helping you to determine your most viable recovery options. You may be able to file a claim against an at-fault driver's auto insurance, and you may have grounds to file a personal injury suit. Whatever your case entails, our firm will do everything we can to maximize your recovery.
You have a limited time in which to pursue recovery from your damages, and the sooner you connect with an Oak Island pedestrian accident attorney, the more likely you are to succeed with your recovery efforts. Our team knows how to prove fault for your accident and prove the full extent of the damages you can claim from the at-fault driver. The sooner you connect with our team, the sooner we can start building your case.
How to Prove Fault for a Pedestrian Accident
All vehicle accidents that happen in the state are resolved using the fault rule, and this applies to pedestrian accidents as well. This means that it is essential to prove fault for an accident before you can recover any compensation for your damages. Drivers are expected to yield the right-of-way to pedestrians at all times, so whenever a driver hits a pedestrian, the driver is almost always at fault for the incident.
However, there are situations in which proving fault can be difficult, especially in the face of North Carolina's contributory negligence law. Under this law, if any party seeking compensation for damages is found to be partially at fault for causing those damages, they lose the ability to claim compensation from the other liable party. Jaywalking, or crossing the street illegally, is one of the most common ways for pedestrians to incur contributory negligence for their accidents.
Your Oak Island pedestrian accident attorney can help gather the evidence you may need to firmly establish liability for your recent accident. This evidence may include traffic camera video recordings, driver cell phone records, and testimony from witnesses who saw the accident happen firsthand. Once you have proven fault for the accident, you can proceed with claiming compensation for the damages the defendant caused.
Building a Personal Injury Case in Oak Island, NC
The main objective of any personal injury case is for the plaintiff, the party filing the suit, to prove that another party directly caused their damages. The at-fault party will be the defendant in the case, and once the plaintiff has proven fault for the damages, the defendant will be responsible for repaying these damages.
Your Oak Island pedestrian accident attorney may reveal forms of compensation you did not initially realize you could claim. A successful personal injury suit can potentially yield compensation for various economic damages, including:
Medical treatment costs. The defendant who caused your pedestrian accident is fully liable for all resulting medical expenses. These accidents often result in catastrophic injuries that will require extensive treatment, so the defendant, in your case, could face substantial liability for immediate and future medical treatment costs resulting from the accident.
Lost income. If you cannot work and earn income after your accident, the defendant is liable for all the income you lost during this period. This applies to any vacation time you were forced to use immediately following the accident.
Lost future earning capacity. If your accident has caused a permanent disability, the defendant will be liable for your diminished earning capacity. Your Oak Island pedestrian accident attorney can help prove the full extent of future income you are no longer able to earn and add this to your claim as economic damages.
You might be able to assess immediately noticeable economic damages like hospital bills and lost wages, but accurate calculation of all your future losses will be difficult without an attorney's help. You will also need their assistance to determine appropriate pain and suffering compensation to seek from the defendant in your case. Your non-economic damages may actually form the bulk of your final case award if you suffered severe injuries.
North Carolina's personal injury laws allow a plaintiff to claim as much pain and suffering compensation as they believe to be reasonable to reflect the extent of physical pain and psychological distress they experienced from the defendant's actions. There is no set formula you must use to calculate this amount, and there is no cap on pain and suffering compensation in vehicle accident claims.
Your Oak Island pedestrian accident attorney may seek an amount for you that reflects the overall severity of the injuries you suffered, or they may aim for an amount that reflects how long it will take for you to reach maximum medical improvement from your injuries. For many personal injury plaintiffs, pain and suffering compensation accounts for the majority of their total recoveries.
When you choose Christina Rivenbark & Associates to represent your pedestrian accident claim in Oak Island, NC, our goal is to help you recover as much compensation as state law allows in the shortest possible timeframe. You can rely on our team for ongoing support through every stage of your recovery efforts, from gathering evidence to prove liability to establishing the full extent of your damages.
FAQs About Oak Island Pedestrian Accidents
Q: Who Is at Fault for a Pedestrian Accident?
A: Determining the fault for your recent pedestrian accident in Oak Island will be an essential first step in your recovery efforts. You must identify the driver who hit you and prove their negligence or intentional misconduct behind the wheel directly caused the accident. It's possible for more than one party to bear fault, but if a plaintiff is found partially liable, it negates their ability to claim compensation from any other liable party.
Q: Can a Pedestrian Cause Their Own Accident?
A: Yes, it is possible for a pedestrian to have caused their own accident due to jaywalking or some other form of negligence. North Carolina is a contributory negligence state, so if a pedestrian contributed to causing their accident, they will not be able to claim compensation from any other liable party and will be solely responsible for their claimed damages.
Q: How Much Compensation Can I Claim for a Pedestrian Accident in Oak Island?
A: If you can prove another party is directly responsible for causing your recent pedestrian accident, they are liable for the full extent of economic damages you suffered from the incident as well as the pain and suffering they caused. Your Oak Island pedestrian accident attorney can help determine the full extent of damages you can include in your claim to maximize your total case award.
Q: Will the At-Fault Driver Go to Jail for Causing a Pedestrian Accident?
A: If the driver who hit you caused the accident because of negligence, they face liability for your damages but would be unlikely to face criminal prosecution. However, if they caused the accident because of any illegal behavior, such as intentional reckless driving or DUI, they not only face criminal charges but also increased penalties for causing great bodily harm. Your attorney can explain how the illegal nature of the defendant's actions could affect your recovery.
Q: How Long Does It Take to Resolve a Pedestrian Accident Case?
A: Recovery from a pedestrian accident may begin with an auto insurance claim followed by a personal injury suit. The time your legal proceedings could take to complete largely depends on whether you can clearly prove fault for the accident and the extent of your damages. With a good attorney on your side, it is possible to settle a civil claim in a matter of weeks.
Experienced Oak Island Pedestrian Accident Lawyers
Christina Rivenbark & Associates has years of professional experience representing injured clients in the Oak Island area, and we know how damaging and traumatic a pedestrian accident can be. If you believe another party is liable for your recent accident, we will help hold them accountable. Contact us today to schedule a free consultation with an Oak Island pedestrian accident attorney and learn how we can assist with your recovery.