Oak Island Distracted Driving Accident Attorney
Across the United States, distracted driving continues to be one of the most common causes of all vehicle accidents each year, and cell phone use behind the wheel is the most frequently cited form of distracted driving. If you are recovering from an accident caused by a distracted driver, an Oak Island texting while driving accident lawyer can help hold them accountable for the damages they caused.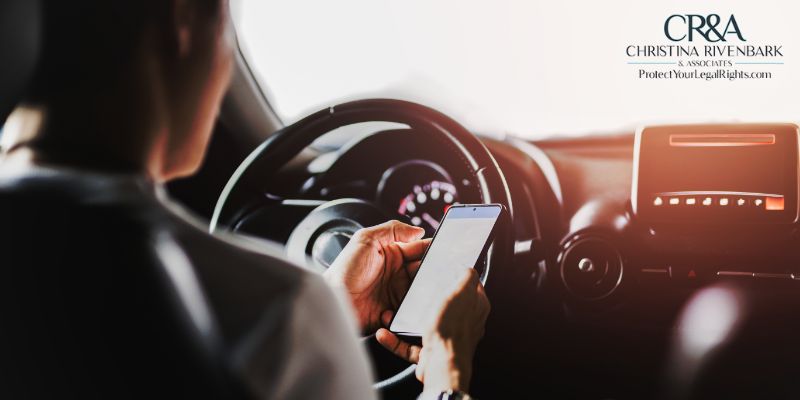 Legal Representation for Distracted Driving Accident Victims in Oak Island, NC
The team at Christina Rivenbark & Associates has years of professional experience handling a wide range of complex personal injury cases in Oak Island, including those arising from vehicle accidents caused by texting while driving. We know how frustrating it can be to know that another driver's irresponsibility caused your injuries and financial losses, and we will do everything we can to help hold them accountable.
Our firm will work quickly to help gather the evidence you will need to prove fault for your accident and hold the at-fault driver responsible for the damages you suffered. Your recovery may begin with an auto insurance claim, but if insurance alone cannot compensate your losses, you can count on our team to guide you through the process of filing a personal injury suit against the at-fault driver.
Recovering From Your Distracted Driving Accident in Oak Island, NC
Every driver in the state is legally required to have auto insurance, but dealing with insurance companies can be difficult if you do not have legal counsel advising you. If you choose Christina Rivenbark & Associates to represent you, we will help file your insurance claim and will resolve any issues you encounter with the insurance carrier.
Once you receive your settlement, you may still have outstanding damages that insurance can't cover. In this situation, or if the at-fault driver does not have insurance, you will need to file a personal injury claim to recover your losses. Under the state's personal injury laws, the plaintiff has the right to seek compensation for:
Property damage, such as vehicle repair costs. Any property losses that insurance can't cover may be cited as economic damages in a personal injury suit.
Medical expenses, including future treatment costs for severe injuries. The defendant is liable for all medical treatment costs resulting from the accident.
Lost income, including lost future earning potential, if you suffered a permanently disabling injury.
Pain and suffering compensation, which may form the bulk of your total case award if you suffer catastrophic injuries.
The right attorney in Oak Island, NC can not only help accurately calculate the entire extent of damages you are legally entitled to claim from the defendant but also streamline the process of securing your compensation. Christina Rivenbark & Associates can help navigate the insurance claim filing process, and if you must file a personal injury case, we know how to streamline these proceedings and shorten the time it takes for you to recover your losses.
You have a limited time in which to pursue your recovery, and the sooner you connect with an Oak Island distracted driving accident attorney, the more likely you will be to succeed with all of the recovery efforts you choose to pursue.
FAQs About Car Accidents While Driving
Q: How Can the Police Prove a Driver Was Texting When They Caused an Accident?
A: Various forms of evidence could come into play in a distracted driving accident, but cell phone records tend to be the most crucial. Your attorney can help you secure the at-fault driver's cell phone records and match their phone usage to the time the accident happened. Vehicle computers store records of all events, including collision detection. These records can prove the at-fault driver's cell phone was in use exactly when the accident occurred.
Q: What Happens if I'm Partially at Fault for an Accident?
A: You may be able to prove an at-fault driver was texting while driving when they caused the accident, but if you bear any partial liability for the accident, it will negate your ability to claim compensation from the texting driver. North Carolina upholds the contributory negligence rule, meaning whenever a plaintiff shares fault for causing their damages, they cannot claim compensation for those damages from any other liable party.
Q: How Are Pain and Suffering Calculated in a Texting While Driving Accident Case?
A: State law does not enforce a cap or limit on pain and suffering compensation in most vehicle accident claims, and there is no strict formula you must use to determine suitable pain and suffering compensation to claim from the defendant. Your Oak Island distracted driving accident attorney can help recover an amount that reflects the severity of the injuries you suffered and the time it will likely take for you to recover.
Q: Does the State Have a Law Against Texting While Driving?
A: Yes. Under the law, texting while driving is illegal. If a police officer sees a driver using their phone while driving, this alone is just cause to initiate a traffic stop and issue a ticket. However, if they caused an accident because they were texting while driving, they will face harsher penalties along with their liability for the damages they caused.
Q: Why Should I Hire a Lawyer After a Texting While Driving Accident?
A: Hiring legal counsel you can trust will significantly improve your chances of recovering from any motor vehicle accident as fully as possible. You will not need to worry about managing your legal affairs while struggling with your medical issues, as your attorney can handle these issues for you. You are more likely to succeed in proving fault for your accident and more likely to maximize your total compensation if you have a seasoned attorney handling your case.
Christina Rivenbark & Associates has the professional resources and experience you need on your side to navigate the aftermath of a texting while driving accident. Our firm can assist you in gathering whatever proof you may need to prove an at-fault driver was distracted by their phone and help recover maximum compensation for your damages. Contact us today and schedule a free consultation with an Oak Island distracted driving accident attorney.