Oak Island Drunk Driving Accident Attorney
Driving under the influence (DUI) of alcohol or drugs is illegal in every state, but DUI continues to be a pervasive issue across the country. Each year, thousands of DUI drivers cause tremendous economic damage as well as many injuries and fatalities. If you have recently been injured in a DUI accident, an Oak Island drunk driving accident lawyer can assist you in holding the at-fault driver accountable for your damages.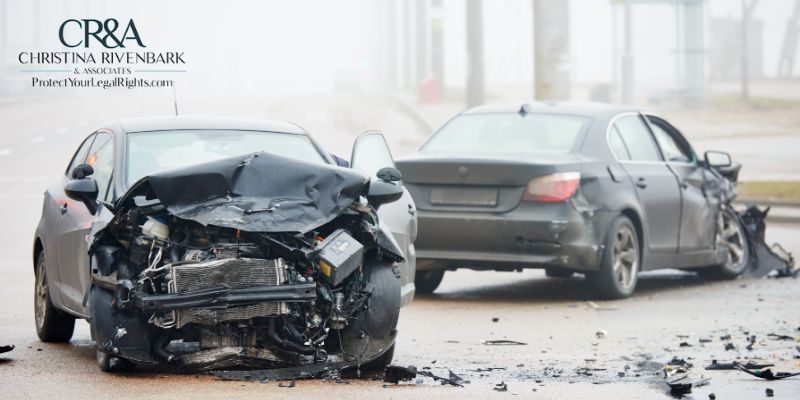 Legal Counsel for Victims of Drunk Driving Accidents in Oak Island, NC
If you are struggling in the aftermath of a DUI accident that someone else caused, you have the right to seek accountability and compensation for your damages. An experienced attorney can help gather the evidence you need to establish liability for your accident and to prove the full extent of the damages you can claim from the defendant.
Recovery from any vehicle accident typically begins with a claim against the at-fault driver's auto insurance policy. Every driver in the state must have auto insurance that meets the state's minimum coverage requirements. When insurance alone cannot compensate you for your damages, you must then file a personal injury claim against the at-fault driver to recover the remainder of your claimable losses.
Christina Rivenbark & Associates can provide all the legal support you will need in your recovery efforts following a drunk driving accident. These accidents tend to result in significant damages, and the at-fault driver will face criminal charges alongside their civil liability for your damages. We can help make sense of the situation so you know what to expect when it comes to your recovery.
Filing an Auto Insurance Claim for a DUI Accident
Every driver in the state must, at minimum, have $30,000 in bodily injury liability coverage for a single person, $60,000 in total accident liability coverage for bodily injuries, and at least $25,000 to cover property damage. Drivers also have the option of purchasing additional coverage or extending their coverage beyond the state's minimum requirements, but expanding coverage results in higher insurance premiums.
Your first legal challenge in the aftermath of a DUI accident is firmly establishing liability for the accident. The DUI driver will likely be arrested or transported to a hospital for medical care before they are arrested. In either case, proving fault for your accident should be relatively straightforward. However, if you bear any partial liability for causing the accident, it will prevent you from filing a civil suit against the at-fault driver.
North Carolina has a contributory negligence law, so if a plaintiff bears any partial fault for causing their claimed damages, they will be unable to seek compensation from the defendant. While the DUI driver may appear to be entirely at fault, it is vital to consider whether you could be found partially liable for the accident. If so, you will need an experienced attorney's help to determine how this may influence your recovery.
Filing a Personal Injury Claim in Oak Island, NC
Success with any personal injury claim requires clear proof that the defendant caused actual harm, meaning you suffered measurable harm from their actions. Once you have proven fault for the accident, your Oak Island drunk driving accident attorney can help build your case against the defendant. You must prove the full extent of the damages they caused, which are likely to include:
Property damage. The defendant is liable for the cost of repairing or replacing your vehicle. While some of your property losses may be claimed through insurance, any remainder the defendant's insurance cannot cover can be cited as economic damages in your personal injury claim.
Medical expenses. Many DUI accidents result in severe injuries, and the defendant in your case will be liable for all medical treatment costs you incur because of their actions. This includes both immediate and future medical expenses if you suffer a serious injury that will require ongoing care.
Lost income. When you are unable to work because of your recent accident, the defendant is liable for the income you cannot earn during your recovery. This extends to liability for lost future earning power if they caused you to develop a permanent disability that prevents you from returning to work in the future.
Pain and suffering. Beyond economic damages, a plaintiff also has the right to seek financial compensation to reflect the physical pain and psychological distress the defendant caused in the accident. There is no limit to how much you can claim and no strict formula you must use to calculate pain and suffering. Your attorney can help determine a reasonable figure that reflects the severity of your experience.
An experienced Oak Island drunk driving accident attorney can provide the guidance and support you will need to recover as fully as possible from your accident. Additionally, the DUI driver who injured you may be compelled to pay restitution and/or punitive damages alongside their liability for your claimed losses.
Resolving Your DUI Accident Claim in Oak Island, NC
You have a limited time in which to pursue your recovery from a drunk driving accident, and the sooner you connect with legal counsel you can trust, the more likely you are to maximize your recovery. Your Oak Island drunk driving accident attorney can help accurately assess the full extent of damages the defendant caused, guide you through the insurance claim filing process, and help you build a comprehensive personal injury claim.
The defendant will face criminal prosecution along with your civil suit, so they will likely want to settle your personal injury claim as quickly as possible to minimize their legal expenses as much as they can. When you choose Christina Rivenbark & Associates to represent your case, we will aim to settle it as quickly as possible, but we are not afraid to take your claim to court if necessary to ensure your full recovery.
Whether you believe you will make a full recovery from your injuries in the near future or your accident has left you permanently disabled, you can trust our firm to provide comprehensive and compassionate legal support through every step of your recovery efforts. We have years of professional experience resolving the toughest claims, and we are ready to put this experience to work for you in your recovery efforts.
FAQs About Oak Island DWI Accident Attorney
Q: Can I Sue a Drunk Driver?
A: If a drunk driver hit and injured you in Oak Island or anywhere else in the state, state law allows you to file a personal injury claim against them to recover your losses. Their auto insurance policy may cover some of these damages, but anything that insurance can't cover can be claimed in your personal injury suit. Additionally, the at-fault driver will face criminal charges for breaking the state's DUI laws.
Q: How Much Compensation Can I Claim for a Drunk Driving Accident in Oak Island?
A: The total potential value of any personal injury claim filed depends on the extent and severity of the victim's losses. The defendant who injured you is liable for the full extent of damages they inflicted with their negligence or intentional misconduct, and these may include property losses, medical expenses, lost income, and intangible damages like pain and suffering.
Q: What Are the Penalties for Drunk Driving?
A: Penalties for DUI conviction in the state can include heavy fines, driver's license suspension, mandatory substance abuse treatment, and jail time. These penalties increase when the defendant has a record of multiple past DUI convictions and/or they have caused great bodily harm or death. The defendant can also face restitution to the victims of the accident they caused.
Q: What Happens if a Drunk Driving Accident Is Fatal?
A: If a drunk driving accident or any other type of car accident is fatal, the family of the victim will likely have grounds to file a wrongful death suit against the at-fault driver in lieu of a personal injury claim. This civil suit is similar to a personal injury claim in some ways, with a few key differences. The at-fault driver faces harsher sentencing for causing a fatal DUI accident as well.
Q: Do I Need to Hire a Lawyer After a DUI Accident in Oak Island?
A: It is possible for you to pursue compensation for your recent DUI accident without hiring an attorney, but this is likely to be far more difficult than you may initially expect. Having an Oak Island drunk driving accident attorney representing you allows you to approach the situation with confidence, and you will be more likely to succeed with your case and more likely to maximize your recovery with their assistance.
For Peace of Mind, Hire Compassionate Legal Support
The right attorney can help you approach the aftermath of any DUI accident in Oak Island with greater peace of mind. Christina Rivenbark & Associates can provide compassionate legal support for all the challenging legal proceedings ahead of you and assist you in maximizing your recovery. If you are ready to learn what an Oak Island drunk driving accident attorney can do for you, contact us today and schedule a free consultation with our team.