Leland Bicycle Accident Attorney
Bicycles are environmentally friendly alternatives to motor vehicles for local transportation, and many people in the Leland area enjoy riding bikes for exercise and leisure. Whatever your reasons for riding your bike might be, it is important to acknowledge the risks you face when you ride near motor vehicle traffic. While North Carolina law allows bicyclists to use most roads and ride alongside motor vehicles, bicycle accidents can happen unexpectedly in various ways.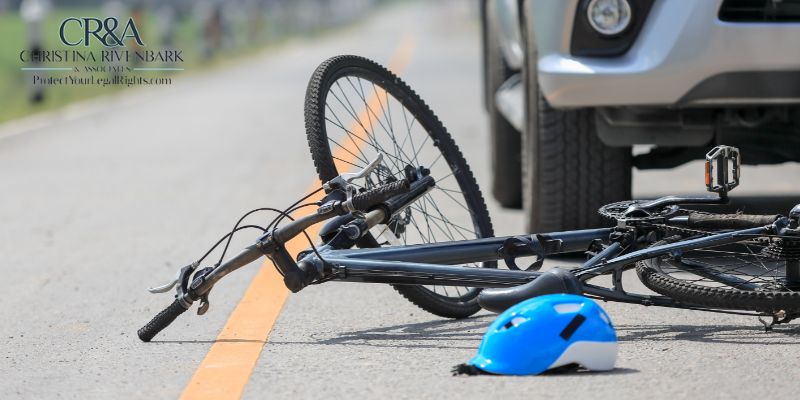 Reliable Legal Representation for Bicycle Accident Claims in Leland, NC
Christina Rivenbark & Associates provides comprehensive legal counsel to victims of bicycle accidents and other vehicle accidents throughout the Leland area. If you believe another party is responsible for causing your recent bicycle accident, your recovery process would mirror what you would face in the aftermath of any other vehicle accident. You could file an auto insurance claim against the at-fault driver, and if this is not enough to compensate your losses you can proceed with a personal injury claim.
Building Your Bicycle Accident Claim
If you are harmed in a bicycle accident in the Leland area, it is important to consult legal counsel you can trust as soon as possible after your accident to have the greatest chance of success with the recovery efforts you pursue. You have a limited time in which to pursue compensation, and the sooner you connect with an attorney, the better your chances are of navigating your legal proceedings successfully.
Your attorney can help gather the evidence you will need to prove liability for your accident. State law requires you to prove fault before you can claim compensation for your damages. Bicycle accidents might happen due to negligence, such as a moving violation or distracted driving, and they may also occur because of illegal misconduct behind the wheel like driving under the influence (DUI). No matter how your accident occurred, you must prove fault before you can recover compensation for the losses you suffered.
After proving liability for your accident, you can proceed with claiming compensation for the damages you suffered. Your Leland bicycle accident attorney can help obtain compensation for all the economic losses you suffered, such as the cost of replacing your bike, the medical expenses you incur for treatment of your injuries, and income you are unable to earn after the accident. You also have the right to claim pain and suffering compensation, and if the defendant caused the accident through illegal misconduct you can potentially receive punitive damages as well.
Christina Rivenbark & Associates can guide you through the legal proceedings ahead in the aftermath of a bicycle accident. We know how damaging these incidents can be and the various legal challenges you could face as you seek compensation for your losses. Whatever your case entails, you can trust our firm to provide compassionate and responsive legal counsel through all stages of your recovery efforts.
FAQs About Leland, NC Bicycle Accident Law
How Do You Prove Fault for a Bicycle Accident?
Before you can recover compensation for the damages you suffered in your recent bicycle accident in Leland, you must prove how the accident happened and identify who caused it. Proving fault can require various forms of evidence, such as recordings from traffic cameras situated near the accident site, testimony from witnesses who saw the accident happen, driver cell phone records, and more. Your Leland bicycle accident attorney can be invaluable for their help in gathering the evidence you may need to firmly establish liability.
What Are the Most Common Injuries From Bicycle Accidents?
Whenever a motor vehicle driver hits a bicyclist, the bicyclist is likely to suffer multiple serious injuries. Broken bones, traumatic brain damage, spinal cord injuries, and damage to internal organs are just a few possibilities. It's imperative that the victim seek medical care immediately. If you can prove another party is responsible for injuring you in a bicycle accident, they are responsible for repaying your medical expenses, including the cost of ongoing rehabilitative care you need to reach maximum medical improvement.
Can I Still Recover Compensation if I Was Partially Responsible for My Bicycle Accident?
If an investigation reveals that the plaintiff in any personal injury claim is partially at fault for causing their damages, even slightly, this will negate their ability to claim compensation from the defendant. North Carolina upholds a contributory negligence law, so any measure of plaintiff fault nullifies their ability to claim compensation. If you have any concerns about bearing partial liability for your recent bicycle accident it is crucial to speak with a Leland bicycle accident attorney as soon as possible.
Will I Win More Compensation if I Hire a Leland Bicycle Accident Attorney?
Although hiring legal counsel to help with your bicycle accident is not a strict requirement under state law, doing so significantly improves your chances of success with your civil suit. Having an experienced Leland bicycle accident attorney on your side allows you to focus on recovery while your attorney manages your case proceedings for you. You are more likely to secure a positive result in your case and your attorney can likely identify avenues of compensation you did not know were available to you.
How Much Does It Cost to Hire a Leland Bicycle Accident Attorney?
Christina Rivenbark & Associates can provide the legal counsel you need for your bicycle accident claim on a contingency fee basis. This means you will only pay a fee if and when we win your case, and there is no fee if we are unable to obtain compensation for you. This billing policy allows you to approach your case with confidence, without fear of your legal fees amounting to more than your final recovery.
Every bicycle accident claim is unique and every plaintiff facing this type of case will encounter different challenges as they seek compensation for their damages. If you believe you have grounds to file a civil claim against another party for causing your recent bicycle accident, we can help. Contact Christina Rivenbark & Associates today to schedule your free consult with a Leland bicycle accident attorney you can trust with your case.