Leland Distracted Driving Accident Attorney
Every driver in Leland, North Carolina has a legal duty to operate their vehicle responsibly at all times and to avoid distractions behind the wheel. Unfortunately, many drivers do not take this responsibility seriously and consequently cause catastrophic harm to other drivers. Under the fault rule, the driver who causes an accident absorbs liability for all resulting damages. If you believe another driver was texting behind the wheel when they caused your crash, it's natural to wonder how you can prove they are liable for your damages.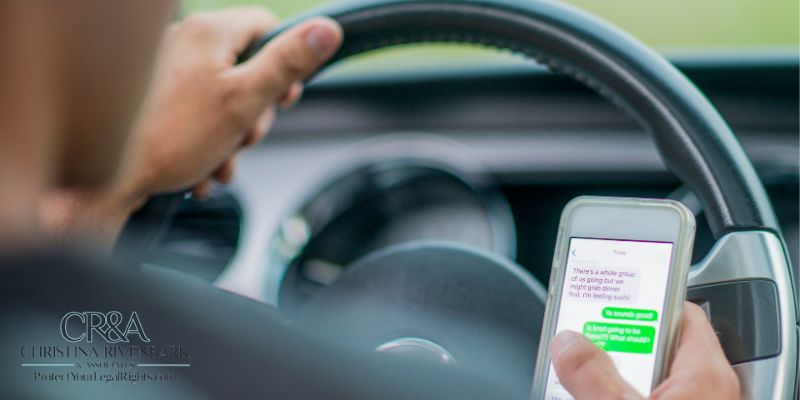 Helping Victims of Texting While Driving Accidents Ensure Accountability in Leland
It may sound difficult to prove that another driver was texting while driving, but there are more types of evidence available in these cases than many drivers expect. The right attorney can help their client gather the evidence needed to prove another driver was texting while driving and hold them accountable for the damages they caused. Cell phone records, vehicle computers, eyewitness statements, and various other forms of evidence commonly come into play in these cases.
Christina Rivenbark & Associates has the legal experience you want on your side in the aftermath of any distracted driving accident. Our firm has years of experience guiding clients through complex civil claims successfully, and we know the challenges you are likely to face as you seek recompense for the losses you recently suffered. It may seem difficult or even impossible to prove fault for this type of accident, but the right attorney representing you significantly improves your chances of reaching the optimal outcome for your recovery efforts.
How to Prove Fault for a Texting While Driving Accident
North Carolina upholds the fault rule when it comes to resolving motor vehicle accidents. This means that the driver who is at fault for the accident is responsible for all resulting damages. They may repay the injured driver through their auto insurance, but when insurance alone cannot repay the victim's losses, they are subject to a personal injury claim. Before the injured driver can recover compensation through insurance or a personal injury case, however, they must prove that the defendant directly caused the damages in question.
Proving texting while driving can seem very difficult. If a driver causes an accident this way, they can simply switch off their phone and claim they were not using it when the accident happened. If you are wondering how you can prove that a driver was distracted by their cell phone, your attorney's help can be invaluable in your case.
An experienced Leland distracted driving attorney can help their client obtain several forms of evidence, including testimony from any passengers or other witnesses to the accident, the at-fault driver's vehicle computer records, their cell phone records, and video footage from nearby traffic cameras. The average person would struggle to obtain this evidence on their own, which is why it is so crucial to consult a Leland distracted driving accident attorney as soon as possible after this type of incident.
Claiming Compensation for a Texting While Driving Accident in Leland
Recovery from any motor vehicle crash usually begins with an auto insurance claim against the at-fault driver. The state requires every driver to have auto insurance, and coverage must include bodily injury liability coverage for a single person, total accident liability for bodily injuries to more than one person, and property damage coverage. Once your Leland distracted driving attorney has helped you prove fault for your accident, you can begin the recovery process by filing your auto insurance claim.
Unfortunately, not all drivers have insurance as required by state law, and even if they do, there is no guarantee that their insurance carrier will handle your claim in good faith. Having a seasoned attorney represent you and help file your demand letter for coverage reduces the chances of experiencing any unexpected unfair treatment in the claim determination process.
After obtaining as much compensation as you can through insurance, the next phase of your recovery efforts would be to file a personal injury claim against the at-fault driver. You have the right to seek full repayment for all the losses they inflicted, and their insurance may only cover a portion of this amount. Your Leland distracted driving attorney can help compile a personal injury claim that seeks compensation for any remaining damages, including:
Property damage not covered by insurance. If your vehicle repair costs exceed the defendant's property damage liability coverage, you can include the remainder in your personal injury claim.
Medical expenses. The defendant is liable for any and all medical expenses you incur from your accident. This includes immediate healthcare costs and any costs for necessary rehabilitative care in the future.
Lost income. Many people injured in vehicle accidents cannot work until they recover. Your attorney can help calculate lost income and lost future earning potential and add these losses to your claim.
Pain and suffering. The state does not limit pain and suffering compensation for most personal injury claims. Depending on the nature and severity of the injuries you suffered, this may form the bulk of your final case award.
When you have the right attorney representing you, they can streamline every aspect of your case. They can assist you in gathering any evidence needed to prove fault, which is an essential first step before filing an auto insurance claim. You have a limited time in which to file this claim, and there are many possible complications that might arise with any insurance claim, but your attorney can assist you in reaching the ideal outcome.
Once you have secured as much of a recovery as you can through insurance, you can proceed with filing a personal injury claim to recover outstanding damages. Ultimately, whatever your recovery efforts may entail, you have the greatest chances of success with an experienced Leland distracted driving attorney representing you. The attorneys at Christina Rivenbark & Associates are ready to apply our many years of experience in civil law to your recovery efforts and guide you toward the compensation you legally deserve.
FAQs About Leland, NC Texting While Driving Law
How Can the Police Prove a Driver Was Texting While Driving?
If you believe that a recent accident happened because another driver was texting behind the wheel, your attorney can file a subpoena for their cell phone records. These records can show the activity on the defendant's phone, and if the records show that the phone was in use at the moment of the accident, this is clear proof they were distracted. Additionally, eyewitness testimony from others involved in the crash or those who saw it happen can provide valuable statements that help prove liability.
What Are the Penalties for Texting and Driving?
Texting while driving is a traffic violation that qualifies as a civil infraction in North Carolina. Normally, the at-fault driver would face a $100 fine and demerit points on their license, and it may lead to higher auto insurance premiums. However, if they caused an accident due to texting while driving, their penalties may increase, and they can also face civil liability for the damages they caused.
Why Is Texting While Driving Dangerous?
Any form of distracted driving can easily cause an accident, and across the United States, distracted driving consistently ranks as the top cause of all crashes year after year. Texting while driving is especially dangerous because it not only draws the driver's attention away from the road but also requires the use of their hands and eyes when they should be focused on safely operating their vehicle.
How Much Compensation Can I Receive for a Texting While Driving Car Accident?
If you can prove another driver was distracted behind the wheel when they caused your recent accident, you have the right to hold them accountable for all the economic losses you suffered from the accident. This includes vehicle repair costs, hospital bills, and lost income for time you are unable to work because of your injuries. You can also seek pain and suffering compensation, and since they caused the accident by breaking the law, you may receive punitive damages as well.
What Does It Cost to Hire a Leland Distracted Driving Accident Attorney?
The attorneys at Christina Rivenbark & Associates accept personal injury clients on a contingency fee basis, meaning our firm takes a percentage of the client's final case award as our fee instead of charging hourly fees during a case. This ensures you have access to the legal representation you need when you need it most. There are no upfront or ongoing legal fees when our firm represents you, and you only pay a contingency fee if we win your case.
The attorneys at Christina Rivenbark & Associates have successfully represented many clients in the Leland area in a wide range of civil suits, including those arising from texting while driving accidents. If you believe another driver's negligence behind the wheel is responsible for the harm you suffered in your accident, we can help hold them accountable. Contact us today and schedule a free consultation with a Leland distracted driving attorney who can help.