Leland Wrongful Death Attorney
The death of a family member is never easy for anyone to handle, and this is especially difficult when you know the death was the result of another party's actions. Whenever one party harms another party through negligence or misconduct, it is called a personal injury, but when such actions cause fatal harm, the case escalates to wrongful death. If your family recently lost a loved one due to the actions of another party, a Leland wrongful death attorney can assist you in holding them accountable.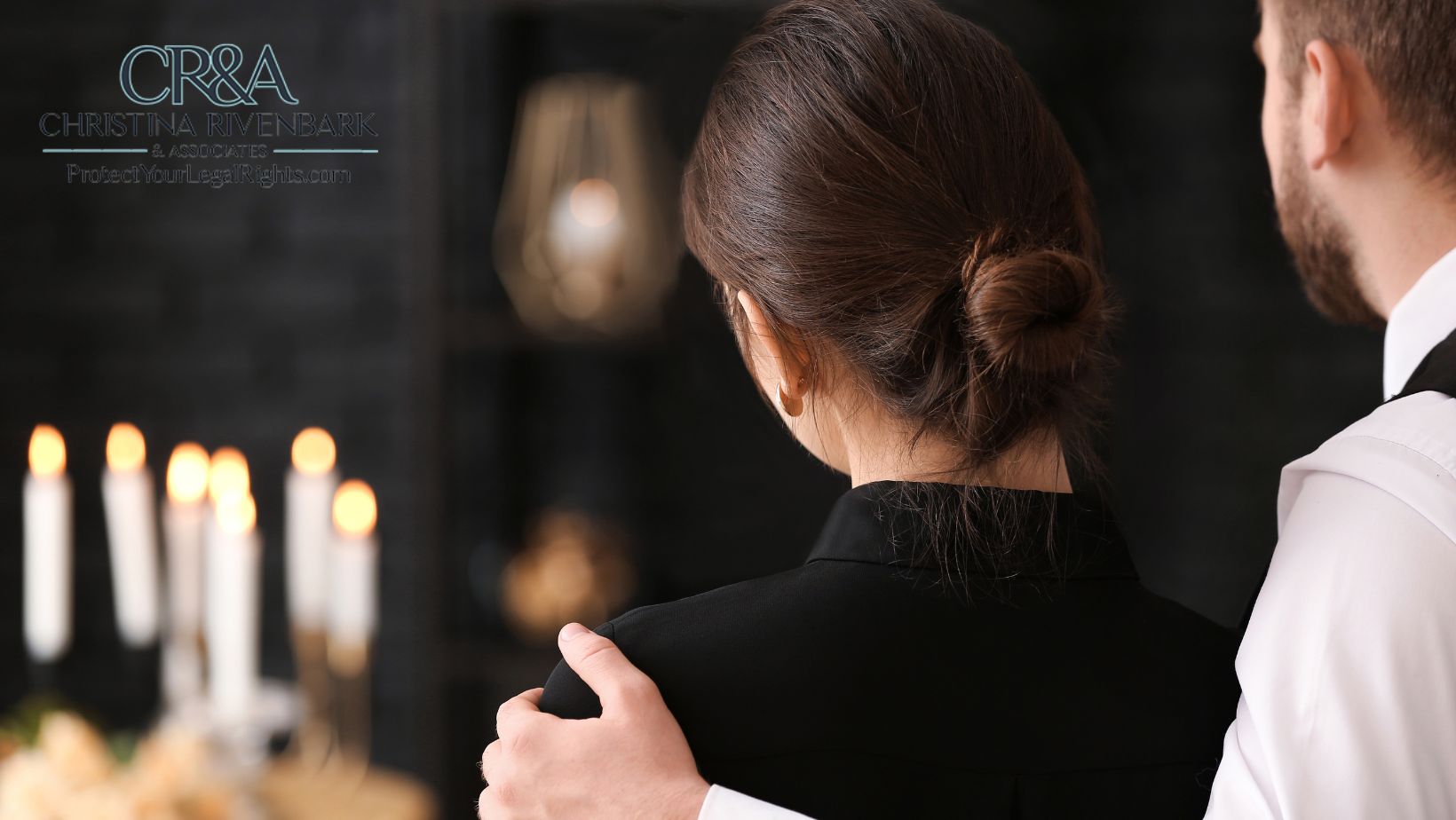 Compassionate Legal Counsel for Leland Wrongful Death Claims
A successful wrongful death claim cannot return your lost family member to you, but it can provide compensation that your family will need to adjust to your new circumstances. The attorneys at Christina Rivenbark & Associates have extensive professional experience handling all types of civil suits for damages in the Leland, NC, area, including wrongful death claims. We know the emotional weight these cases carry and the many questions you are likely to have as you seek accountability for your family's loss. Rest assured that our team can provide the responsive, compassionate, and detail-oriented legal counsel you and your loved ones need to approach a wrongful death claim with confidence.
How to Prove Liability for a Wrongful Death in Leland
Your wrongful death claim can help hold the at-fault party accountable for their actions and the financial harm the death has caused, and it can provide compensation for the pain and suffering your family has experienced. Before you can secure any form of compensation for a wrongful death, however, you must prove the exact cause of the death and identify the party or parties responsible.
Your Leland wrongful death attorney can be invaluable in this effort. They can help identify the party who caused the wrongful death and gather the evidence needed to show exactly how they caused it. A few commonly cited causes of wrongful deaths throughout North Carolina include:
Motor vehicle accidents: If your family lost a relative in a fatal vehicle accident, an insurance claim against the at-fault driver might only cover a portion of the total losses resulting from the incident. Your Leland wrongful death attorney can help prove exactly how the fatal accident happened and identify the driver responsible.
Work injuries: When a fatal work accident occurs, the surviving family of the victim may be entitled to death benefits through the victim's employer. However, if there is a specific party responsible for the death, the family also has the right to file a wrongful death claim.
Criminal misconduct: If the party responsible for your loved one's death caused the death through any type of illegal behavior, such as driving under the influence or intentional violence, the at-fault party faces not only liability for the damages you claim in your wrongful death suit but also criminal prosecution. Whenever criminal misconduct results in death, the penalties automatically escalate and often include incarceration.
These are only a few examples, and no matter how the death in your family occurred, you need to seek legal counsel as soon as possible to have the greatest chance of success with your claim. Your Leland wrongful death attorney can assist you in gathering the evidence needed to firmly establish fault for the accident and ascertain the full scope of your family's claimable damages.
Recovering Compensation for Wrongful Death in Leland
State law requires a wrongful death claim to be filed by the personal representative of the deceased's estate. If they did not name a specific representative or executor, or if they did not have an estate plan, the court would appoint a personal representative such as their surviving spouse, parent, or an adult child. The personal representative of the estate is responsible for filing the claim, but the compensation awarded from a successful wrongful death action passes through the estate directly to the beneficiaries of the deceased. These damages do not become part of the estate.
Under North Carolina's wrongful death statutes, the plaintiff bringing the wrongful death action has the right to claim compensation for any and all economic losses resulting from the death. These generally include funeral and burial costs for the deceased, medical expenses and other damages incurred by their estate, and lost financial support they could have otherwise provided to their family.
State law also allows the plaintiff in a wrongful death suit to recover compensation for the family's pain and suffering. The surviving spouse has the right to seek recompense for loss of affection and consortium, and the surviving children and other relatives of the deceased can recover compensation for lost guidance, support, and care the victim could have provided if they had survived. It may sound difficult to translate these intangible damages to monetary value, but your Leland wrongful death attorney will know how to maximize your family's recovery.
Other variables can also influence the outcome of a wrongful death claim. For example, if the defendant caused the death through any type of illegal misconduct, they face criminal charges along with possible punitive damages to the victim's family. Alternatively, if the victim contributed to causing their fatal injury in any way, this could negate the surviving family's ability to file a wrongful death claim under the state's contributory negligence law.
The attorneys at Christina Rivenbark & Associates can provide the comprehensive legal guidance you and your family need to approach a wrongful death claim with confidence and peace of mind. We can listen to your story, help gather the evidence needed to firmly establish fault for the death, and prepare you for the difficult proceedings ahead. Our firm is confident in our ability to handle the toughest wrongful death claims on behalf of Leland clients, and the sooner you reach out to our firm, the sooner we can begin working on your claim.
FAQs About Leland, NC Wrongful Death Law
How Much Compensation Can You Claim for a Wrongful Death?
While a personal injury claim seeks compensation for the losses the plaintiff suffered, a wrongful death claim revolves around the financial impact of a sudden death for the surviving family and their pain and suffering. Your Leland wrongful death attorney can help you and your family maximize the compensation you obtain from the defendant, which may include funeral expenses, the cost of the decedent's final medical care, losses incurred by their estate from the death, and pain and suffering compensation for the surviving family members.
How Long Do You Have to File a Wrongful Death Claim?
There is a two-year statute of limitations on wrongful death claims in North Carolina, meaning a claim needs to be filed within two years of the date of the death in question. This may seem like more than enough time, but it is always advisable to start the claim filing process as soon as you can. This preserves the reliability of any evidence or testimony you and your family may need to prove fault for the death.
What Are the Penalties for Causing a Wrongful Death?
When a person causes a wrongful death through negligence or intentional misconduct of any kind, they potentially face criminal charges. If the death occurred through simple negligence and an unintentional error, they could face civil liability for the family's wrongful death claim, but criminal prosecution would be unlikely. However, if they broke the law in any manner that resulted in death, such as drunk driving, excessive speeding, or intentional violence, the state is likely to file criminal charges against them, and they could face prison time along with other penalties.
Are Wrongful Death Settlements Taxable?
The settlement you and your family obtain from a successful wrongful death claim will not qualify as income; therefore, it is not taxable in the state. If you are concerned about any tax implications that the outcome of any civil case may have, it is important to discuss these with your attorney. If they are not experienced with tax law, they can usually refer to a tax attorney or other tax professional who can help.
How Much Does It Cost to Hire a Leland Wrongful Death Attorney?
Christina Rivenbark & Associates uses the contingency fee billing system for our personal injury and wrongful death clients. This means you will not be required to pay anything upfront or any ongoing fees for the duration of your legal proceedings. Instead, our firm will take a percentage of the final case award we obtain on your family's behalf, but only if we win. If we cannot secure compensation for any reason, you pay nothing; this billing policy eliminates any financial risk of hiring our firm to represent you.
Facing a wrongful death claim can be incredibly stressful in many ways, and it is natural to have lots of pressing legal questions at the outset of any such case. Do not make the mistake of attempting to handle complex legal proceedings on your own while struggling with the emotional weight of losing a loved one. Contact us today and schedule a free consultation with a Leland wrongful death attorney who can handle your case efficiently and guide you to a positive outcome.