Leland Truck Accident Attorney
Large commercial trucks are essential to North Carolina's supply chain and common sights on Leland area roads. Most drivers encounter commercial trucks while driving and have no issues, but others are not so fortunate. Though rarer than passenger vehicle accidents, truck accidents do happen, typically with tremendously damaging results. If you were recently harmed in a truck accident in Leland, NC you need legal counsel you can trust to help ensure accountability for the incident and to secure compensation for your damages.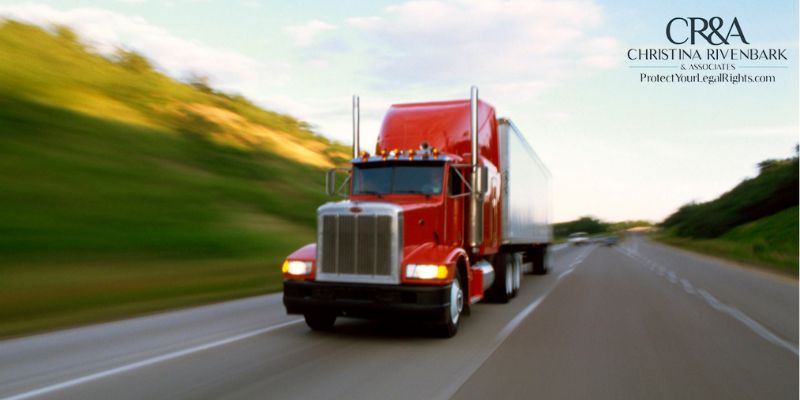 Experienced Legal Counsel for Truck Accident Victims in Leland, NC
Christina Rivenbark & Associates offers responsive, compassionate, and client-focused legal representation to victims of truck accidents and other personal injuries in Leland. Your recovery will begin with proving fault for the accident and then uncovering all your claimable damages. Most drivers begin their recovery processes with auto insurance claims, followed by filing personal injury claims when insurance alone cannot compensate for their losses. If you believe any other party caused your recent truck accident, we can help you hold them accountable.
How to Recover From a Truck Accident in Leland
The first step in the recovery process after any vehicle accident is to prove fault for the accident. Under the state's fault rule, the driver responsible for causing an accident is liable for all resulting damages they inflict on others. Your Leland truck accident attorney can assist you in determining what party or parties bear fault for your damages. It's possible for the fault to fall to the driver of the truck in your accident, and their employer could also share liability. It is also a possibility for a third party to have caused your accident, and multiple drivers may share fault for your damages.
After proving fault, the recovery process begins with a claim against the at-fault driver's auto insurance policy. All drivers in the state are required to have auto insurance, and most truck drivers in the state have more expansive coverage than the average individual driver. However, this does not mean you will be able to fully recover your damages through insurance alone or that you will encounter no issues with the insurance company.
Once you have recovered as much compensation as possible through available insurance coverage, you can seek repayment of your outstanding damages with a personal injury claim against the party responsible for your truck accident. North Carolina law allows a personal injury plaintiff to claim compensation for their property damage, medical expenses, lost income, and the pain and suffering they endured from the situation. When you have an experienced Leland truck accident attorney representing you, you are not more likely to succeed with your truck accident claim but also more likely to maximize your total case award.
Christina Rivenbark & Associates can represent you before an insurance company and ensure they process your claim in good faith. When insurance alone can't fully compensate your damages, we can build a cohesive personal injury claim against the at-fault driver, seeking compensation for any damages their insurance couldn't cover. We generally seek to settle our clients' cases swiftly whenever we can, but we are prepared to litigate for you if necessary to resolve your claim.
FAQs About Leland, NC Truck Accident Law
How Do You Prove Fault for a Truck Accident?
Proving liability for a truck accident may require similar evidence that would come into play in a standard car accident case. Traffic camera footage, eyewitness accounts, digital records like vehicle computer data, and cell phone records all come into play in many truck accident cases. However, depending on how your accident happened, vicarious liability may apply, and the truck driver's employer could share fault for the actions of their employee.
Can I Still Claim Compensation for a Truck Accident That I Partially Caused?
No. Under the state's contributory fault law, a plaintiff found to bear partial responsibility for causing their claimed damages cannot seek compensation from a defendant. If you are found even slightly to blame for causing your recent truck accident, you will not be able to claim compensation from any other liable party. Your Leland truck accident attorney can address any concerns you may have about bearing partial liability for your recent accident.
How Long Do I Have to File a Personal Injury Claim for a Truck Accident in Leland?
There is a three-year statute of limitations on personal injury claims under North Carolina law. This means you need to file your claim within three years of the date your accident happened; otherwise, you lose the chance to claim compensation from the defendant. You have a much shorter window in which to file an auto insurance claim, so it is vital to reach out to reliable legal counsel as soon as possible after a truck accident.
How Much Compensation Can I Receive for a Truck Accident?
The total potential value of your truck accident claim depends on the extent and severity of the damages you suffered. The state's personal injury laws allow you to claim full repayment of any economic damages you suffered, and you have the right to claim pain and suffering compensation. Punitive damages may also come into play at a judge's discretion if the defendant who caused your accident did so through some illegal misconduct.
What Does It Cost to Hire a Leland Truck Accident Attorney?
The team at Christina Rivenbark & Associates can represent your truck accident claim without adding to your financial concerns. Our firm takes these cases on a contingency basis, meaning you are only obligated to pay an attorney's fee once we win your case, and the fee is a percentage of the total case award recovered from the defendant. This ensures that your legal expenses do not overtake your final case award.
Resolving a truck accident in Leland may follow a similar process to what you would face in the aftermath of a car accident, but these accidents tend to be far more damaging. If you believe another party is to blame for your recent truck accident, we can help. Contact Christina Rivenbark & Associates today to schedule a free consult with our team and learn what a Leland truck accident attorney can do for your recovery.