Leland Pedestrian Accident Attorney
Pedestrians inherently face many risks any time they walk near vehicle traffic. Despite road signs and traffic signals designed to maintain a safe flow of traffic and to keep pedestrians safe while walking, pedestrian accidents can and do occur throughout the Leland area on a regular basis. These accidents often have devastating effects, including life-changing injuries and substantial economic harm to injured victims.
Helping Leland Pedestrian Accident Victims Recover
If you or a family member is recovering from being hit by a driver, a Leland pedestrian accident attorney can help you hold the at-fault driver accountable for the harm they've done. Your recovery may require an auto insurance claim against the at-fault driver followed by a personal injury suit. Whatever your unique situation requires, you can rely on Christina Rivenbark & Associates to provide the compassionate legal support you need to approach your recovery efforts with peace of mind.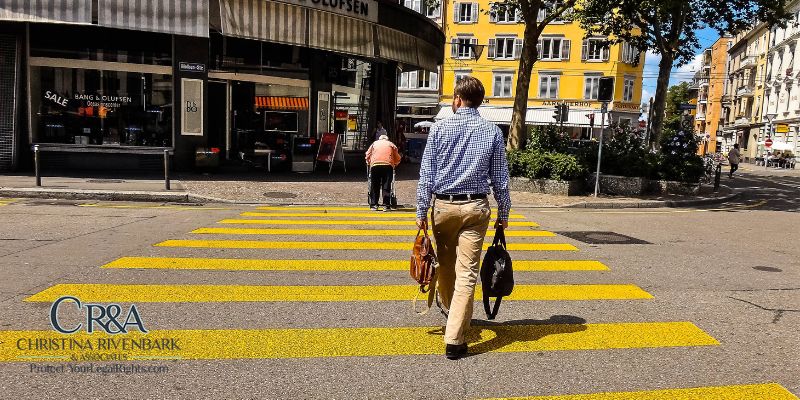 Benefits of Hiring Legal Representation for a Pedestrian Accident Case in Leland
It's technically possible to pursue compensation for your damages on your own, but you have much better chances of success when you have an experienced Leland pedestrian accident attorney fighting on your behalf. Instead of attempting to manage your medical needs while also meeting the court's strict procedural requirements for your case, your attorney can handle your legal affairs so you can focus on your recovery.
Your Leland pedestrian accident attorney is also likely to uncover avenues of compensation you may have overlooked on your own, enhancing your final case award. They can also help you address any unexpected complications with your case that you would not know how to resolve unassisted. Ultimately, it is always worth investing in trustworthy legal representation for any type of personal injury claim in Leland.
Proving Liability for a Pedestrian Accident Claim in Leland
Before the victim of a pedestrian accident in Leland can recover compensation for their damages, they must be ready to prove the exact cause of those damages. Under state law, the party responsible for a personal injury has liability for all resulting damages. However, the state also enforces the contributory negligence rule. This means that if a plaintiff bears any shared fault for causing their damages, they lose their right to claim compensation from the defendant.
The first step in recovering from your recent pedestrian accident is proving the exact cause of the accident. Distracted driving, speeding, moving violations, and driving while intoxicated (DWI) are just a few ways a driver might cause a pedestrian accident. It's common for drivers accused of these accidents to allege contributory negligence on the part of the plaintiff, usually by accusing them of jaywalking. It is illegal for a pedestrian to cross the street outside of designated crosswalks, and if an investigation proves this occurred, it may negate the plaintiff's ability to seek compensation for damages from the defendant.
Claimable Damages in a Leland Pedestrian Accident Case
Any pedestrian accident has the potential to be a life-changing event for the victim, resulting in tremendous injuries that impose both short and long-term challenges. A personal injury claim in Leland is likely to cause many economic losses for the victim and their family, and if you must file a pedestrian accident claim, you have the right to seek full repayment of any such losses. Claimable economic damages in most personal injury claims filed in North Carolina can include the following:
Medical treatment costs. The defendant who injured you is liable for the cost of any and all medical care you require to heal completely from your injuries. This includes both immediate and future treatment costs if you require ongoing rehabilitative treatments. Your attorney can help you gather the medical documentation necessary to prove the full scope of medical expenses you incurred and will incur from the accident.
Lost income. When a plaintiff has been left unable to work due to a defendant's negligence or misconduct, the defendant is liable for the income the plaintiff cannot earn during this time. Additionally, if a pedestrian accident results in a permanent disability that prevents the victim from working in the future, the defendant is also liable for the victim's lost earning potential.
Property damage. If the defendant damaged or destroyed the victim's personal property, they are liable for repairing or replacing the lost property.
Your Leland pedestrian accident attorney is the optimal asset to have on your side for maximizing the recovery of your economic damages. They can also help you hold the defendant accountable for the pain and suffering you experienced.
While calculating intangible losses like pain and suffering may sound difficult, your attorney will know the appropriate method for calculating suitable compensation for these non-economic damages. If you suffered any long-term or permanent harm, they may seek a large lump sum of pain and suffering compensation, or they may opt for a per diem settlement that awards compensation for each day you spend in recovery. Since pedestrian accidents tend to result in catastrophic injuries, the plaintiff's pain and suffering compensation might overshadow the other damages they win from their case.
Other variables could also come into play and influence your final case award. For example, if the defendant caused the accident through any form of illegal misconduct, you could receive punitive damages in addition to your other compensation. These are awarded at a judge's discretion and intend to punish a defendant for egregious negligence or illegal misconduct resulting in injury.
Ultimately, your case could be worth much more than you expect, and a seasoned Leland pedestrian accident attorney is the ideal resource for determining your case's total potential value. Christina Rivenbark & Associates will work closely with you to maximize your case award and secure compensation on your behalf in the most efficient manner possible under state law.
FAQs About Leland, NC Pedestrian Injury Law
How Can a Leland Pedestrian Accident Attorney Help Me?
Your Leland pedestrian accident attorney will be invaluable to your recovery efforts in several ways. They can handle the procedural side of your case while you focus on recovering, ensuring your claim moves unimpeded by administrative red tape in the court system. They'll help you gather evidence and testimony needed to prove liability for your damages, and they will be instrumental in proving the full scope of those damages. Having experienced legal counsel assist with your claim significantly improves your chances of maximizing your total compensation.
How Much Does It Cost to Hire a Leland Pedestrian Accident Attorney?
Christina Rivenbark & Associates uses a contingency fee billing system. When you hire our firm for a pedestrian accident claim, we will not charge upfront or ongoing legal fees and will only take a fee if we win your case. Our fee will be a percentage of the total amount of compensation we recover on your behalf. However, if we are unable to obtain compensation for your damages for any reason, you will not be required to pay anything. This billing policy eliminates any financial risk of hiring our firm to represent you in your pedestrian accident claim.
How Soon Should I Contact a Leland Pedestrian Accident Attorney?
Pedestrian accidents typically result in catastrophic injuries. The victim will need immediate medical attention, but once they stabilize, they should contact legal counsel as soon as possible. It's possible for the at-fault driver's insurance company to reach out to you with a settlement offer, but you should consult legal counsel before discussing any type of settlement for your case. The sooner you hire legal counsel, the better your chances are of reaching a positive conclusion to your case proceedings.
How Much Compensation Can I Win for a Pedestrian Accident?
The total potential value of any civil claim for damages in Leland depends on the scope of the victim's losses. North Carolina law allows the plaintiff to seek full repayment for all the economic losses they sustained as well as pain and suffering compensation. There is no limit or cap on pain and suffering compensation in most personal injury claims, so the plaintiff may obtain a substantial recovery to reflect any severe injuries and/or permanent harm they sustained.
What Happens If a Pedestrian Accident Is Fatal?
Whenever a vehicle hits a pedestrian, even at low to moderate speed, the victim is likely to sustain injuries from the primary impact from the vehicle, followed by the secondary impact of hitting the ground. In the event the pedestrian dies from their injuries, the at-fault driver would be liable for wrongful death. The surviving family of the deceased victim could pursue wrongful death action in place of the personal injury suit the victim could have filed if they had survived.
Christina Rivenbark & Associates has helped many Leland area clients recover from all types of motor vehicle accidents and personal injuries, including pedestrian accidents. These cases tend to involve severe injuries and extensive damages, and injured victims need to know their rights and their options for legal recourse in the aftermath of such incidents. If you need to take legal action in response to your recent pedestrian accident, contact us today and schedule a free consultation with a Leland pedestrian accident attorney.