Leland Motorcycle Accident Attorney
Motorcycles are popular in North Carolina, but they are some of the most inherently dangerous vehicles for anyone to operate. It's crucial that everyone who rides a motorcycle in the Leland area knows the risks they face on the road and their options for recovering from an accident. Motorcycle accidents have a high chance of causing catastrophic or fatal injuries, and many injured riders face extremely challenging legal disputes after experiencing these accidents.
Helping Leland Motorcycle Accident Victims Recover
If you or a loved one is recovering in the aftermath of a motorcycle accident someone else caused, the team at Christina Rivenbark & Associates can help you recover. We have successfully represented many past clients in a wide range of motor vehicle accident claims, and we know the unique legal challenges that motorcycle accidents often create for victims and their families. Our goal in your case is to guide you toward the optimal outcome and the most substantial recovery possible under state law.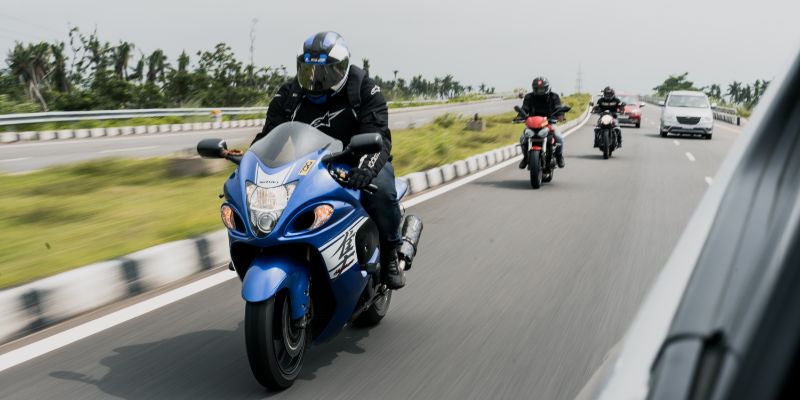 How to Prove Fault for a Motorcycle Accident
North Carolina enforces the fault rule for motorcycle accidents and all other motor vehicle accidents. This means that whoever causes an accident absorbs liability for all resulting damages. Before the victim of a motorcycle accident can recover any compensation for their damages, they need to accurately identify the driver who caused their accident and prove the full scope of all the damages they incurred.
Motorcyclists face the same risks as all other drivers on the road, but they are more susceptible to extreme or fatal injury due to the fact that a motorcycle offers virtually no physical protection to the rider in a crash. A few of the most commonly reported causes of motorcycle accidents that generate contested legal disputes in the Leland area include:
Speeding, which is not only a major contributing factor to the total number of vehicle accidents in Leland each year but also a leading factor when it comes to fatal motorcycle accidents.
Distracted driving, which is the leading cause of all motor vehicle accidents in the United States each year. Motorcyclists are especially vulnerable to inattentive drivers because their vehicles are smaller and easier to overlook than larger passenger vehicles.
Driving while intoxicated (DWI). It is illegal for any driver to operate a vehicle under the influence of drugs or alcohol. A DWI accident has a high chance of causing severe or fatal injuries, and the at-fault driver faces criminal charges along with their liability for the victim's civil damages.
Moving violations, which include anything that disrupts the flow of traffic or startles other drivers. Running a red light or performing an illegal turn can easily result in a devastating crash.
These are only a few examples of the ways that motorcycle accidents might happen in Leland. Your attorney can assist you in gathering evidence like cell phone records and traffic camera footage so you can identify the at-fault driver and hold them accountable for the damages they caused. Once you have proven liability for your accident, you can proceed with seeking compensation for your losses from the defendant.
It is vital for the plaintiff of any personal injury case to understand the state's contributory negligence law. Under this statute, a plaintiff may not seek compensation for their damages if they share fault for causing those damages with the defendant. Even if the plaintiff is only slightly at fault, this negates their ability to file an auto insurance claim and/or personal injury claim against the other driver. If you are worried about bearing partial liability for your motorcycle accident, it is crucial to speak with an experienced Leland motorcycle accident attorney as soon as possible.
Recovering From Your Motorcycle Accident in Leland
State law demands that every driver has auto insurance that meets the state's minimum coverage requirements for property damage liability and bodily injury liability. When any motor vehicle accident happens, the injured driver can file a claim against the at-fault driver's insurance to seek compensation for their damages. If this is not enough to fully repay their losses, or if the at-fault driver does not have insurance, the injured driver can then file a personal injury claim to seek compensation for the results of the at-fault driver's actions.
Under state law, the victim of a personal injury has the right to hold a defendant accountable for property damage, medical expenses, and lost income resulting from the defendant's negligence or intentional misconduct. This includes both immediate and future losses resulting from the incident. For example, if you suffered severe injuries that demand ongoing rehabilitative care, the defendant would be liable for initial medical bills and the cost of all required future treatment.
Beyond your economic damages, you may also hold the defendant accountable for the pain and suffering you experienced because of their actions. State law does not cap or limit pain and suffering damages in most personal injury claims. Depending on the severity of your injuries, the pain and suffering compensation you win in your case may overshadow the total of your economic damages.
When you have Christina Rivenbark & Associates representing you in a motorcycle accident case, we will do everything we can to streamline your insurance claim process and maximize this initial recovery before helping you with your civil suit for damages. Our team will assist you in gathering the evidence needed to firmly prove the defendant's fault and disprove any claims of contributory negligence they might allege. If your case proceeds to a civil claim, we will attempt to settle the case as efficiently as possible, but we are fully prepared to confidently represent you in litigation if a trial is necessary for any reason.
FAQs About Leland, NC Motorcycle Accident Law
How Do I Prove Liability for a Leland Motorcycle Accident?
You must identify the driver who caused your accident and prove they directly caused your claimed damages. The process of proving fault will differ from case to case. Typically, the plaintiff in a personal injury case requires physical evidence and witness testimony to establish a defendant's liability for their damages. Proving fault is essential for recovering compensation from both auto insurance and a civil suit, and your Leland motorcycle accident attorney will advise you as to the most effective strategy for proving fault in your claim.
How Much Compensation Can I Receive for My Motorcycle Accident?
State law allows the victim of another party's negligence or misconduct to seek full compensation for all of the economic losses they suffered from the event. These may include property damage, medical expenses, future medical treatment costs, lost wages, and lost future earning power. A personal injury plaintiff can also seek pain and suffering compensation. The total value of your claim hinges on the scope and severity of the damages you suffered.
Can I Still Claim Compensation if I'm Partially at Fault for My Accident?
If you share liability for your recent motorcycle accident, you lose the right to claim compensation from the other driver under the state's contributory negligence law. Even if your fault is slight, any fault on the part of the plaintiff negates their ability to secure compensation from the other driver. Shared fault will prevent you from securing an insurance claim settlement or filing a personal injury claim against the other driver, so you will be forced to handle your damages on your own.
Do I Need to Hire a Legal Motorcycle Accident Attorney?
There is no law that requires you to hire legal representation for your motorcycle accident claim. You have the right to pursue compensation on your own without hiring an attorney. However, you face significant risks in attempting this. You could make mistakes in the early stages of your recovery efforts that jeopardize your ability to claim compensation from the defendant. You could also unintentionally settle for less than you are legally allowed to claim without an attorney's counsel and direction. It is always worth hiring legal counsel for any civil suit in Leland.
How Much Does a Leland Motorcycle Accident Attorney Charge a Client for Legal Representation?
Christina Rivenbark & Associates accepts personal injury clients on a contingency basis. We only take a fee once we win your case, and the fee we take is a percentage of the total amount we recover on your behalf. There are no upfront legal fees, nor do we expect payment during your case proceedings. If we cannot obtain a recovery on your behalf, there is no fee at all. Our contingency fee policy ensures you do not face any financial risks by hiring our firm to represent you.
Christina Rivenbark & Associates has years of professional experience helping Leland area clients with a wide range of motor vehicle accident claims, including motorcycle accident cases. We know the devastating effects these incidents often have on victims and the tremendous economic impact any personal injury can have on a family. If you are ready to start taking advantage of your options for legal recourse against the party responsible for your accident, we can help. Contact us today to schedule your free consultation with a Leland motorcycle accident attorney to start working toward your recovery.